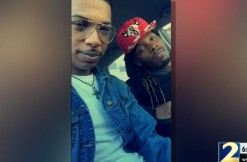 In March, we wrote about a gay couple, Anthony Gooden and Marquez Tolbert, who suffered severe burns in an alleged bias attack. They said a man threw boiling water on them because they were gay. This wasn't a random person either. It was Martin Blackwell, who was dating Gooden's mother.
The attack isn't an allegation anymore. On Wednesday, a judge in Atlanta, George sentenced Blackwell, 48, to 40 years in prison. A jury found him guilty of eight counts of aggravated battery and two counts of aggravated assault. He wasn't charged with a hate crime since George doesn't have relevant legislation, and a federal investigation is pending.
"You had so many outs where the voice of reason could have taken over," Fulton County Superior Court Judge Henry Newkirk said in court, also noted that water "takes a long time" to boil.
Defense lawyer Monique Walker argued it was a lesser crime of reckless conduct.
"It's not about hate," she told the jury. "It's about old-school culture, old-school thinking."
Tolbert told reporters the verdict left him ecstatic. "I think justice has been served," he said.
He sustained second and third-degree burns from the attack. It was so bad he lost skin from his back, and doctors had to replace it with flesh from his thigh.
[image via WSB-TV]
–
Follow Alberto Luperon on Twitter (@Alberto Luperon)
Have a tip we should know? [email protected]