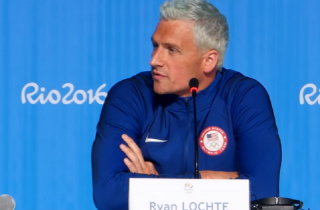 Brazilian authorities will summon gold medalist Ryan Lochte to testify for the county's Justice Department, Fox News reported on Thursday. [He might face charges. See the update below.] Their source, Detective Clemente Braune, said the swimmer won't be penalized for no-showing, but going back to Rio is the only way he can negotiate a plea deal.
Four U.S. Olympic swimmers, including gold medalist Ryan Lochte, claimed they were robbed at gunpoint at a gas station in Rio de Janiero. That story fell apart under scruntiny, and now police are investigating whether anyone should be charged for filing a false report.
It's unclear if Lochte will go. He's currently back in the United States. We've reached out to his spokespeople, and will update if we get a response.
Update – August 25, 4:00 p.m.: Brazilian news outlet Globo said they spoke with Braune. Lochte has to testify because he will soon be charged with filing a false report. Police are still completing their investigation, Braune said, but they've already recommended charges against Lochte and fellow swimmer James Feigen. If convicted, Lochte faces up to 6 months behind bars.
–
Follow Alberto Luperon on Twitter (@Alberto Luperon)
Have a tip we should know? [email protected]