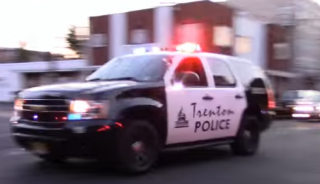 A New Jersey man who was already arrested got into even more trouble during his ride in a police van. Bryan Givens was charged for his … odd behavior on the way to the Mercer County Corrections Center in October.
Police told NJ.com that Givens and seven others, including two women, were in a van on their way to the jail. When they got out, one of the female inmates complained about Givens' behavior. She said that while they were in the van, Givens licked her leg through a hole in her jeans, and also took his shoe off and rubbed her leg with his foot.
"You're going to put me back here with someone that wants to touch me?" she asked police at the time, prompting an investigation into what happened.
Capt. Donald Fillinger told NJ.com that Givens allegedly started by rubbing the woman with his foot. She told Givens to stop, and he did, but eventually started again. Then he escalated by leaning over and licking her, according to reports. Once the investigation was over, police arrested him for criminal sexual contact.
[Image via screengrab]
Have a tip we should know? [email protected]