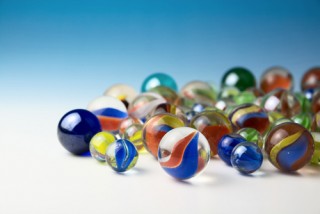 The lawsuit of an inmate who prison staff have taken to calling "Marble Man" continues to roll along, after the Fourth Circuit Court of Appeals ruled that Adrian King brought "overwhelming evidence" that prison officials unreasonably removed marbles from his penis without consent, Reuters reported.
You read that correctly.
King, an inmate at West Virginia's Huttonsville Correctional Center, alleges that staff at the facility threatened him into letting them surgically remove marbles he had implanted into his penis. He claims that he was told if he didn't have the procedure done, he'd lose eligibility for parole and possibly be separated from other inmates. He originally had the marbles implanted in 2008, when he also got tattoos on that part of his body. The lawsuit claims that prison officials violated his Fourth Amendment right against unreasonable search and seizure, his Eight Amendment right to protection from cruel and unusual punishment, and his Fourteenth Amendment equal protection rights.
King claims that since losing his marbles [Editors's note: the pun was unavoidable], he has experienced physical and emotional suffering. He says that since the surgery, he has had numbness and pain in his penis, and that prison staff and inmates taunt him.
Prison officials claimed that contraband hidden in people's bodies poses a security threat, and a lower court ruled against King. But the appeals court voted 3-0 to send the case back down so it could continue.
Have a tip we should know? [email protected]