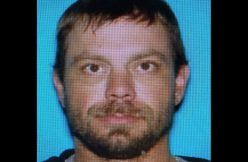 Deputies in Indiana seek the man they think broke into their office early one Saturday morning after an investigation.
"In one of the bolder (if that is the word for this) moves we have seen here at the Ohio County Sheriff's Office, an individual decided to break into our office," they said in a newly released statement on Facebook.
The Sheriff's Office claims 38-year-old Jack Steele Jr. had been brought to their office after an OWI (operating while intoxicated) investigation, and he waited in the foyer, a public space, while he waited for a ride. The office was closed, as usual, for the weekend.
Sheriff Glen Potts explained to LawNewz.com that Ohio County features a small law enforcement team, and is the only county in the state that doesn't have a jail. They have a couple of deputies on duty during the weekend, and anyone who needs to contact law enforcement after hours can use the foyer's phone to reach dispatch. Most people who the deputies arrest get sent to Switzerland County.
Steele allegedly took advantage of the empty facility Saturday at about 6:40 a.m. The Sheriff's Office statement said he spent nine minutes collecting a jump pack starter for vehicle batteries, a digital camera, a flashlight, and other items.
"It is believed that Steele is a seasoned veteran when it comes to committing burglaries, as he is seen attempting to wipe his fingerprints off of the counters," the statement said.
His father, Jack Steele Sr., allegedly picked him up from the office, and drove off. On Monday, investigators executed search warrants at both of their homes, and recovered some of the stolen items, the statement said. Senior was arrested, but Junior was no where to be found.
Both father and son face charges of felony burglary, felony obstruction of justice, and misdemeanor theft.
"This has to rank up there as one of the world's dumbest criminals," Potts said in the statement. "If anyone from the show 'World's Dumbest…' is reading this and needs a video for the criminals episode, I would be more than happy to provide one for them."
Also in the statement: "As a reminder, even in this case, individuals charged with a crime are considered innocent until proven guilty in a court of law."
[Image via Ohio County Sheriff's Office]
Have a tip we should know? [email protected]