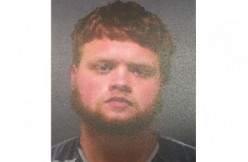 How to be terrible: a LawNewz.com exclusive. Step 1) Get tapped to be a pallbearer at a woman's funeral. Step 2) Don't show up. Step 3) Instead, burglarize the home of the woman's granddaughter. That's what Blake Elliot is accused of doing, according to The Springfield News-Sun.
Eliot, 19, allegedly burglarized the victim's home in western Ohio on May 3, while she was at her grandmother's funeral. He was supposed to be at the service as a pallbearer. Clark County records obtained by The News-Sun said the granddaughter returned home to find many electronics had been stolen, including TVs, and video game systems. She had only been gone for about two hours. Authorities discovered some of those items at Eliot's apartment.
Elliot's vehicle was reported to be in the victim's driveway during the burglary. Deputies later spotted it, and pulled him over for traffic-related offenses.
In Ohio, burglary like this can be a second-degree felony by up to eight years in prison, and a $15,000 fine.
[mugshot via Clark County / Springfield News Sun]
–
Follow Alberto Luperon on Twitter (@Alberto Luperon)
Have a tip we should know? [email protected]