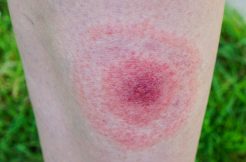 Nancy Nicolauo's 2012 medical malpractice lawsuit was already in a bad way. The Leigh County Court of Common Pleas ruled against her on summary judgment back in 2014, though they left one door open—that a statute of limitations dispute should get resolved by a jury. Well, she learned that this won't happen in part because of a Facebook post.
As reviewed in the December 22 ruling by the Pennsylvania Superior Court, Nicolaou said she got bit by a tick in 2001. She started seeing doctors soon after because of a number of symptoms, like tingling and numbness throughout the body, and having so much trouble walking that she needed a wheelchair. Cue a long process, stretching for years.
She said she took an MRI which "suggested" that she could have been suffering from either Lyme Disease or multiple sclerosis. The doctors, who she stopped seeing in 2008, allegedly decided she had MS, but Nicolaou reportedly started suspecting that she got misdiagnosed as early as 2007. She met Nurse Practitioner Rita Rhoads, who suggested she take a test with a company called IGeneX, but Nicolauo didn't immediately jump at it "because she wanted to see how her symptoms were going to react to the antibiotics."
She did take the test on February 1, 2010, and got written confirmation on the following February 13 that she did in fact have Lyme Disease. That's when she put up a Facebook post, telling readers she "had been telling everyone for years i [sic] thought it was lyme and the doctors ignore me, thank you god you have answerd [sic] my prayers!!!!!!!!!"
Nicolaou filed a lawsuit two years later on February 13, but that Facebook post turned out to be fatal to her pursuit—there was a two-year statute of limitations over whether she could sue, and the judges decided that she'd missed the deadline.
Judge Jacqueline O. Shogan wrote for the 6-3 majority:
It is without question, then, that as early as July 20, 2009, Ms. Rhoads informed Mrs. Nicolaou that Ms. Rhoads believed Mrs. Nicolaou had lyme disease, Ms. Rhoads, in fact, treated Mrs. Nicoalaou for lyme disease, the treatment caused "amazing" improvement in Mrs. Nicolaou's symptoms, and Mrs. Nicolaou knew of the availability of an objective test that could confirm Ms. Rhoads' clinical diagnosis. Moreover, for the ensuing seven months, Mrs. Nicolaou refused to obtain the objective proof of the clinical diagnosis Ms. Rhoads had rendered.
The court said that Nicolauo claimed in documents that didn't believe she had Lyme Disease, but her Facebook post punctured that claim.
Mrs. Nicolaou's Facebook post, indeed her own words, bear on the fallacy of her claim on appeal that "she didn't believe it."
We've reached out to Nicolaou's attorney Nathan M. Murawsky to learn whether they have plans to appeal.
[Screengrab via AnastasiaKopa and Shutterstock]
Have a tip we should know? [email protected]