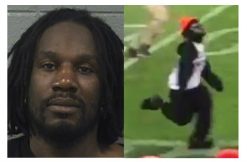 On Sunday, a man ran through Soldier Field during a Chicago Bears' game: He wore a full-body gorilla suit and an "All Lives Matter" t-shirt. These dude bolted around until stadium security tackled him.
It is pretty unlikely that the NFL will include the footage in official retrospectives, but here's video taken from the stands:
A guy dressed as a gorilla wearing an "all lives matter" shirt just ran onto the field at the Bears game pic.twitter.com/QJLfuS1b1U

— Nik Gaur (@Gaur_Nik) October 2, 2016
And now the Cook County Sheriff's Office has said that Angelo Graham is the man in the suit. Online jail records say the 31-year-old has been charged with criminal trespass to a place of public amusement, a Class 4 felony in Illinois. He remains in Cook County Jail in lieu of $250,000 bail, awaiting an October 11 court date.
Attempts to reach Graham at this time have been unsuccessful, and a possible motive for the Sunday incident remains mysterious.
[mugshot on left via Cook County; screengrab via Twitter user @Gaur_Nik]
–
Follow Alberto Luperon on Twitter (@Alberto Luperon)
Have a tip we should know? [email protected]