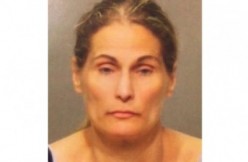 A New York City lawyer was arrested Thursday after she allegedly tried to rob a bank in Greenwich Connecticut.
Meighan Marie McSherry, 46, has been charged with first-degree robbery and second-degree larceny, Greenwich Time reports. It's a bad look for the attorney, who used to represent the poor for the Legal Aid Society of New York.
Police said she tried to rob a Wells Fargo Bank on Thursday.
"The suspect reportedly provided a note to the bank teller demanding money and stating that she had a weapon," Greenwich police Lt. Kraig Gray told Greenwich Time. "The suspect left the scene with money stolen from the bank." Thing is, witnesses gave authorities a description of the suspect and her vehicle. She was found "within a few minutes" and arrested.
"I am shocked by the allegations," her attorney, Jennifer De Castro Tunnard, said in court, while speaking of McSherry's own legal career. She told the judge her client couldn't remember how she ended up in Greenwich.
Police for the New York Police Department are also investigating her for another bank robbery that happened in the Upper West Side neighborhood on Tuesday, CBS New York reports. The suspect in that incident, who was caught on surveillance footage, had similar m.o.: give a threatening letter to a bank teller demanding money. But the bank in this case didn't comply, and the suspect fled.
[mugshot via Greenwich Police]
–
Follow Alberto Luperon on Twitter (@Alberto Luperon)
Have a tip we should know? [email protected]