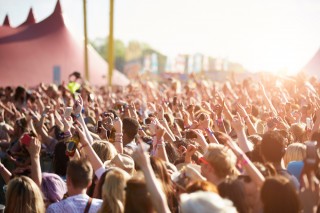 A suspect who has yet to be apprehended reportedly distributed bags of candies laced with THC, a chemical found in marijuana, at a music festival in Ohio. Fox News reported that on Saturday, a man threw bags of candy into the crowd at the EST 2016 rap festival, according to authorities. The event, headlined by Cleveland's own Machine Gun Kelly, took place over Friday and Saturday, and was dubbed "The Last Weekend on Earth."
Richland County Sheriff's Department spokesman Maj. Joe Masi said that each candy had "a very, very high dose of THC." Authorities said that just one or two pieces could get an individual high, but some consumed entire packages, which contained roughly 20 pieces.
The candies were reportedly making their way through the audience in the morning, and by the afternoon, people were showing up at a local hospital in ambulances. OhioHealth spokesperson Nikki Workman said 24 people were treated, but that she felt the situation was under control.
Law enforcement officials are still looking for the alleged distributor, who they say is a white male, about 5'6″, who was wearing a shirt with a marijuana leaf on it.
Have a tip we should know? [email protected]