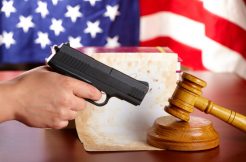 A deposition got hostile when it turned out one lawyer allegedly had a gun, and was ready to use it—at least that's the story according to a motion filed on Thursday in Clark County, Nevada. Plaintiff lawyer Dale A. Hayes, JR. has filed motion for a protective order and sanctions over the alleged incident involving the opposing attorney in a defamation lawsuit, James W. Pengilly.
Both sides were at a deposition on September 20, the motion reads. Pengilly, both the defense lawyer and defendant, allegedly exhibited odd behavior. He was allegedly hostile to the deposition witness (one of the plaintiffs): cursing at him, insulting, asking questions in "an aggressive and snarly tone," and interrupting him when he tried to answer questions. The filing states that things got so bad that Hayes ended the deposition.
Then came the gun.
"Pengilly then lifted up his shirt and Hayes and Mark observed a handgun on Pengilly's back right hip in a holster," the motion reads. He allegedly acted like he was going to get in a "gun fight," and yelled, "Are you ready for it!"
Police were called, and the Las Vegas Metropolitan Police is investigating.
"Hayes believed that Pengilly was determined to shoot them and later claim self defense," the motion states.
We've reached out to Pengilly, who runs his own law firm, and we'll provide an update if we get a response. We also followed up with Hayes about this, but the Hayes Law Firm declined to issue a statement since this is a pending legal matter.
The LVMPD confirmed that this remains an open investigation. Officer Michael Rodriguez told us detectives are looking into it, and the possible charge is assault with a deadly weapon.
Click here for the full motion, obtained by Above The Law
Update – October 5, 8:20 p.m.: Added information from the LVMPD. This remains an open investigation as of October 5.
[image via Monika Wisniewska and Shutterstock]
–
Follow Alberto Luperon on Twitter (@Alberto Luperon)
Have a tip we should know? [email protected]