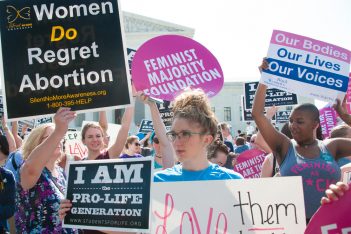 On Tuesday, the Oklahoma Supreme Court struck down an abortion law passed in 2015. It sought to impose new restrictions on abortion providers and penalties for violations of those restrictions. In a 9-0 ruling, the Court held the SB 642 was "unconstitutional as it violates the single-subject rule set forth in Okla. Const. art. 5, §57."
The single-subject rule provides, in part, "Every act of the Legislature shall embrace but one subject, which shall be clearly expressed in its title…." In its opinion, the Court explains the purpose of the single-subject rule is to "insure transparency in the legislative process" and to "prevent the Legislature from making a bill 'veto proof' by appending unpopular legislation within popular bills."
To determine whether legislation is related to one subject, the Court focuses on "whether it appears that either the proposal is misleading or provisions in the proposal are so unrelated that many of those voting on the law would be faced with an unpalatable all-or-nothing choice."
According to the Court, the 2015 abortion law, also known as SB 642, contains four provisions:
Section 1 amends current law to give the Attorney General or District Attorney additional power to "enjoin certain conduct relating to requisite consents for minors seeking abortions";
Section 2 provides new authorization to the Oklahoma Bureau of Investigations to "create a new forensic protocol for statutory rape investigations";
Section 3 creates new licensing and inspection requirements for abortion facilities and directs "the Oklahoma State Department of Health (OSDH) to develop requisite regulatory protocols";
Section 4 "adds a new broad-sweeping section, imposing felony penalties as well as civil penalties up to One Hundred Thousand Dollars" for violations of existing abortion laws
The Court ultimately determined these four sections did violate the single-subject rule, writing:
We find that each of the four sections of SB 642, lack a common purpose and are not germane, relative and cognate. Although each section relates in some way to abortion, the broad sweep of each section does not cure the single subject [sic] defects in this bill. Although defendants urge that SB 642 does not constitute logrolling, we find the provisions are so unrelated that those voting on this bill were faced with a constitutionally prohibited all-or-nothing choice to ensure the passage of favorable legislation.
Officials with the Center for Reproductive Rights, an abortion advocacy group which filed the lawsuit, told OKNews.com the group was pleased with the outcome in the lawsuit.
"Today's decision is a critical victory for Oklahoma women and their doctors, who will no longer face the threat of criminal prosecution simply for providing safe and legal health care to their patients," Nancy Northup, president and CEO of the Center for Reproductive Rights, reportedly said upon learning of the decision.
She added, "This law was nothing but a cynical attack on women's health and rights by unjustly targeting their trusted health care providers."
[image via Rena Schild/shutterstock]
Have a tip we should know? [email protected]