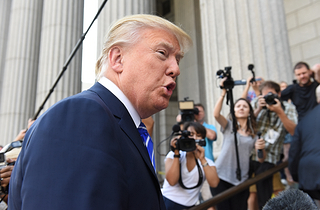 Just one day after it came out that New York State Attorney General Eric Schneiderman ordered the Donald J. Trump Foundation to stop fundraising, a new report suggests that the charity's improprieties go further than previously reported. On top of soliciting funds without being registered as a charity and spending foundation money on Donald Trump's personal expenses, a new report from Real Clear Politics reveals that the foundation gave over $286,000 to various conservative and policy groups. Presumably, the goal was to win over skeptical Republicans en route to Trump launching his presidential campaign in 2015.
Real Clear Politics reviewed the foundation's tax filings from 2011 to 2014, discovered, among others, a $10,000 donation from 2013 to The Family Leader, which is classified as a 501(c)(4) organization. Unlike nonprofit organizations, which are under 501(c)(4), groups like The Family Leader are legally able to effect policy and engage in a small amount of political activity. According to the original report, if the donation was sent to the main Family Leader group and not its nonprofit arm, The Family Leader Foundation, then Trump's foundation may have violated IRS rules governing charities.
That year, Trump appeared as a speaker at one of The Family Leader's events for the first time. While criticized by social conservatives, Bob Vender Plaats, the group's president and CEO, said at the time that "I think the best predictor of the future is to look at the past, and he's been a pretty successful guy, so I wouldn't count him out." When the Trump Foundation donated to The Family Leader again in 2014, it was definitely to the nonprofit arm that time.
Other expenditures of note found in the Trump Foundation's tax filings include:
$100,000 to the Reverend Billy Graham's foundation, not long after the famous Reverend endorsed him to ABC News.
$50,000 to the Conservative Political Action Committee's (CPAC) non-profit arm, American Conservative Union Foundation in 2013, the same year that he spoke at CPAC's annual event.
$100,000 to Citizens United in 2014, the same year he appeared at one of their events.
Multiple Trump campaign aides did not respond to requests for comment from Real Clear Politics. 
[Photo: Shutterstock]
Have a tip we should know? [email protected]