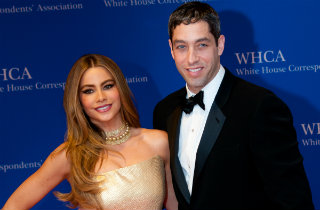 According to the new lawsuit filed against "Modern Family" actress Sofia Vergara, her ex-boyfriend, Nick Loeb sent her text messages objecting to the destruction of unused embryos before they ever even argued about the topic. On Wednesday, LawNewz reported that in the opinion of our experts, the new lawsuit filed on behalf of the former couple's frozen embryos — yes, Louisiana law gives them limited personhood — has no merit. While seemingly a carefully crafted case, made possible by the unique state laws, our experts concluded that even taking jurisdiction into account, the likelihood of success was virtually nil. But there are a lot of questions about this case. For example, who is really behind it? Is it Loeb? Who are the attorneys?
A 46-page complaint, obtained by The Daily Beast, gives us a few more answers about this mysterious lawsuit, but ultimately leaves many more questions. We've now learned the embryos' lawyers are James Arruebarrena, who does not appear to practice family law normally, and Catherine Glenn Foster, a vocal anti-abortion rights activist.
The complaint does cite the content of text message exchanges between Vergara and Loeb. For example, there are these from March 4, 2013 after Vergara finished up an appointment with her fertility doctor:
Vergara: "We have 5 embryos [sic]. [The doctor] said she cant believe [sic[ it"
Loeb: "Wow"
Loeb: "That's 5 lives"
Vergara: "I never [knew] that that could happened [sic]"
Vergara: "She always said maybe 2"
Loeb: "Now what"
Loeb: "You can't keep 4 frozen lives forever or kill them, we will go to hell"
Vergara: "We r going to hell regardless"
The complaint also adds that in the same string of texts, Vergara apparently that  "Im doing it because I want you to have a baby."
Some other notes from the complaint:
The embryos are each referred to as "a female human being at the embryonic stage of life, five days old developmentally."
It is not explained when the trust in the embryos' names, which is based in Louisiana, was created. As noted Wednesday, while Loeb does not live in the state, he does have some ties to it, as he went to college at Tulane University, the couple lived in Louisiana at one point while Vergara was working in-state, and Vergaras son also enrolled in Tulane.
It is alleged that there was "an understanding that they would bring all created embryos to term via a surrogate."
The couple's agreement as to what would happen to unused embryos was a standardized form contract from the fertility clinic that did not outline what would happen to unused embryos other than in the event of their deaths. In that event, the embryos could be donated, allowed to be thawed and discarded, or used by the surviving partner.
Vergara picked the second option, and Loeb alleges that she coerced him into initialing that box ""under duress by verbally and emotionally abusing and berating him […] until he agreed to sign."
Both sides of the case have still yet to comment publicly, and neither has Loeb. We still don't know if he is the one behind it.
[Photo: Shutterstock]
Have a tip we should know? [email protected]