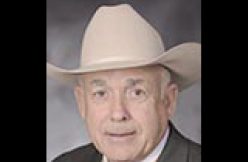 A Missouri lawmaker who said vandals should be lynched now says he didn't mean that they should be lynched, according to Think Progress.
All this started Wednesday, when Rep. Warren Love (R-Osceola) originally responded to a private Facebook post about the vandalism of a confederate statue at a military cemetery in Springfield, Missouri.
"This is totally against the law," he wrote. "I hope they are found and hung from a tall tree with a long rope."
It got condemnation from some Democrats, but also from fellow Missouri Rep. Shamed Dogan, a black Republican working out of Baldwin.
Vandalizing property is wrong, but hoping for people to be hung/lynched over it?? Way over the line!! What is wrong with us #moleg? pic.twitter.com/b0ulohvatQ

— Shamed Dogan (@Dogan4Rep) August 30, 2017
Now Love says he didn't mean that they should actually be hung from a tall tree after saying they should be hung from a tall tree. A self-described "cowboy," he said he was only being figurative.
"Anyone regardless of age, gender, or race that would desecrate or vandalize an object of remembrance is a lowlife that has no respect for memorials that have been placed by loved ones of people that want to honor that individual," he wrote in a follow-up comment. "This crime currently is only a misdemeanor, and it is being made clear by recent acts of vandalism that it needs to be increased to the felony level."
He said he wasn't inciting violence, and that he was only referencing the "old cowboy statement" about what happens to horse thieves.
[Image via Missouri House of Representatives]
Have a tip we should know? [email protected]