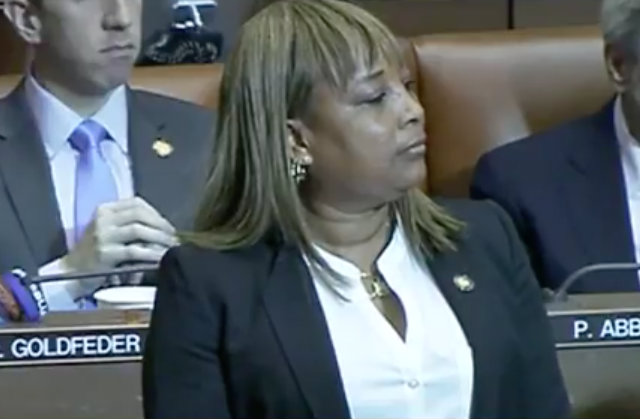 On Tuesday, New York State Assemblymember Pamela Harris was indicted on multiple federal counts of fraud. Prosecutors said that among other things, this Brooklyn-based Democrat improperly took cash meant for Hurricane Sandy disaster relief funds. An arraignment was scheduled for the afternoon before U.S. Magistrate Judge Ramon E. Reyes, Jr., said a Department of Justice press release.
According to the indictment, she faces a total of 11 counts: two for wire fraud, one for wire fraud conspiracy, one for disaster relief fraud, three for false statements, two for bankruptcy fraud, one for conspiracy to obstruct justice, and one for witness tempering.
For example, Harris fraudulently applied for FEMA temporary housing assistance after Hurricane Sandy, according to investigators. She falsely claimed that she and her husband had to rent a Staten Island residence because they could no longer stay in their storm-damaged, three-story Coney Island home. Harris provided FEMA cash receipts showing that she supposedly paid monthly rent between $1,550 and $2,500 to the landlord from November 2012 to January 2014, prosecutors said.
It was all faked, authorities claimed. Harris and her husband never lived in that rented residence. She provided fake lease agreements and receipts, and forged the landlord's signature, said prosecutors. This politician allegedly ended up with $24,800 in this scheme. Associated plots sought to drain money from other government entities like the New York City Council, as well as hiding $10,010.08 from creditors in bankruptcy court, the indictment said. Prosecutors also claimed that Harris tried to convince the Staten Island landlord and a man to lie to the grand jury about her living in that home.
Harris' office did not immediately respond to a Law&Crime request for comment.
[Screengrab via New York State Assembly Majority]
Have a tip we should know? [email protected]