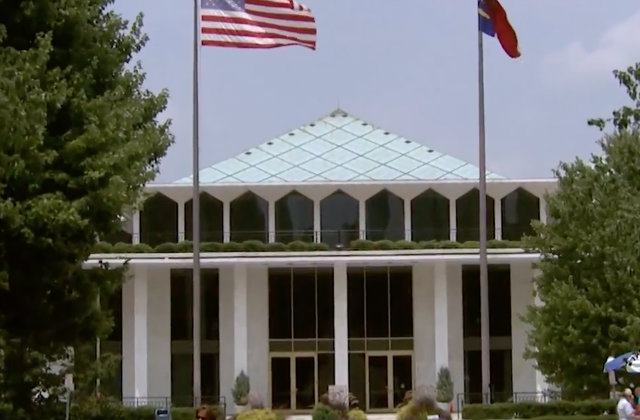 The U.S. District Court for the Middle District of North Carolina ruled Tuesday that the tar heel state's congressional electoral map was unconstitutional for being too partisan. GOP lawmakers went too far in their 2016 Congressional Redistricting Plan by establishing disadvantages to Democrats, said the majority opinion.
The Republican-controlled North Carolina General Assembly expressly directed the legislators and consultant responsible for drawing the 2016 Plan to rely on "political data"–past election results specify whether, to what extent, particular voting districts had favored Republican or Democratic candidates, and therefore were likely to do so in the future–to draw a districting plan that would ensure Republican candidates would prevail in the vast majority of the state's congressional district.
Judges determined that this map violated the First Amendment, the equal protection clause of the Fourteenth Amendment, and parts of Article I.
Now there is an injunction on the 2016 plan, which had been the proposed solution to another problem–voters in two black-majority districts had sued, alleging that the congressional map made in 2011 resulted in unconstitutional racial gerrymandering. They won in court on February 5, 2016 when the U.S. District Court for the Middle District of North Carolina agreed, and struck down those districts. (The U.S. Supreme Court upheld that decision in Cooper v. Harris.)
Gerrymandering under the 2011 plan, which was created by a GOP-controlled state legislature, carried big ramifications for the U.S. Congress. Before the 2012 general election, Democratic representatives had 7 out of the 13 seats. According to Tuesday's ruling, however, Republican won 9 in spite of only getting a total of 49 percent of the statewide vote.
Tuesday's ruling is part of a lawsuit by Common Cause, a watchdog group that describes itself as nonpartisan, and the League of Women Voters of North Carolina. Defendants include the North Carolina State Board of Elections, the State of North Carolina, and lawmakers like North Carolina House Speaker Timothy Moore (R-11th District). When Law&Crime reached out for comment from the defense's legal team at the North Carolina Department of Justice, Chief Deputy Attorney General Alexander Peters said they are still reviewing the court's decision.
Note: Added Peters's comment, which was made Wednesday morning January 10.
[Screengrab via North Carolina General Assembly]
Have a tip we should know? [email protected]