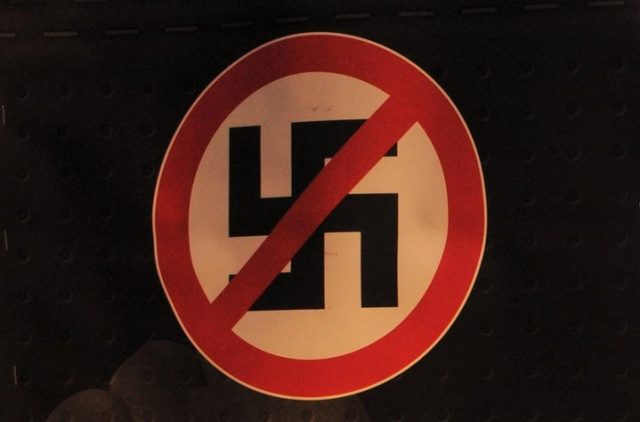 Aaron Davis is an intellectual property attorney in Minnesota who, up until recently, was a partner at a law firm. That recently ended, when his employers learned about his side project, owning a record label that promoted neo-Nazi bands with blatantly hateful songs.
Davis' Behold Barbarity Records featured acts like Deathkey, Aryanwulf, and Raunchous Brothers, each with music featuring strikingly bigoted titles and lyrics. One of Aryanwulf's songs, for example, is called "Kill the Jews." Deathkey has an album called "Behead the Semite." Raunchous Brothers have such anti-gay lyrics such as "You're of no use to me, you disgraceful fucking dyke, so I'll shove you in the oven like the glorious Third Reich," as noted by Minneapolis' City Pages.
City Pages reported on Davis' activities earlier this month, and his firm, Patterson Thuente, took swift action, first placing him on administrative leave and removing his page from the firm's website. On Monday, the firm said in the statement to the outlet, "Aaron Davis is no longer employed by Patterson Thuente Pedersen, P.A. Prior to the story, no one in the firm had any inclination regarding the allegations in the article."
In an additional statement to LawNewz.com, the firm confirmed that Davis is no longer with them, and added:
Hate, bigotry and intolerance have no place in our society. We value and respect the rights of all and foster a culture of mutual respect and inclusiveness within our firm and in the communities where we live and work.
Of course, this raises the legal issue of whether a company can fire someone for this sort of thing. If the firm wasn't aware of Davis' extracurricular activities, surely it wasn't affecting his work up until then, and surely you can't fire someone for their political beliefs, right? Well, that's where it gets tricky.
As Elie Mystal wrote for Above The Law, Nazi sentiment itself may not be against the law, but if a firm wants to employ Jews, gay people, or black people, and one of their partners is supporting "music" that expresses hateful messages towards those groups, they are entitled to protect the work environment by firing that partner. Once the news got out that Davis owned the record label, it would be reasonable for his coworkers to be uncomfortable or afraid. As a result, the firm was within their right to get rid of him. "Anything less is creating a hostile work environment for everybody else," Mystal said.
I'm inclined to agree. harboring a Nazi sympathizer isn't quite the same as making sure Democrats and Republicans can work together. Not only does removing Davis from the firm eliminate a threatening presence, it also protects the firm itself. Nazi bigotry that calls for the deaths of various segments of the population is beyond the pale of acceptable political viewpoints. If the firm kept Davis after the public became aware of his activities, their clients could have left them in droves.
It remains to be seen whether Davis will attempt to fight his termination.
[Image via Shutterstock]
Have a tip we should know? [email protected]