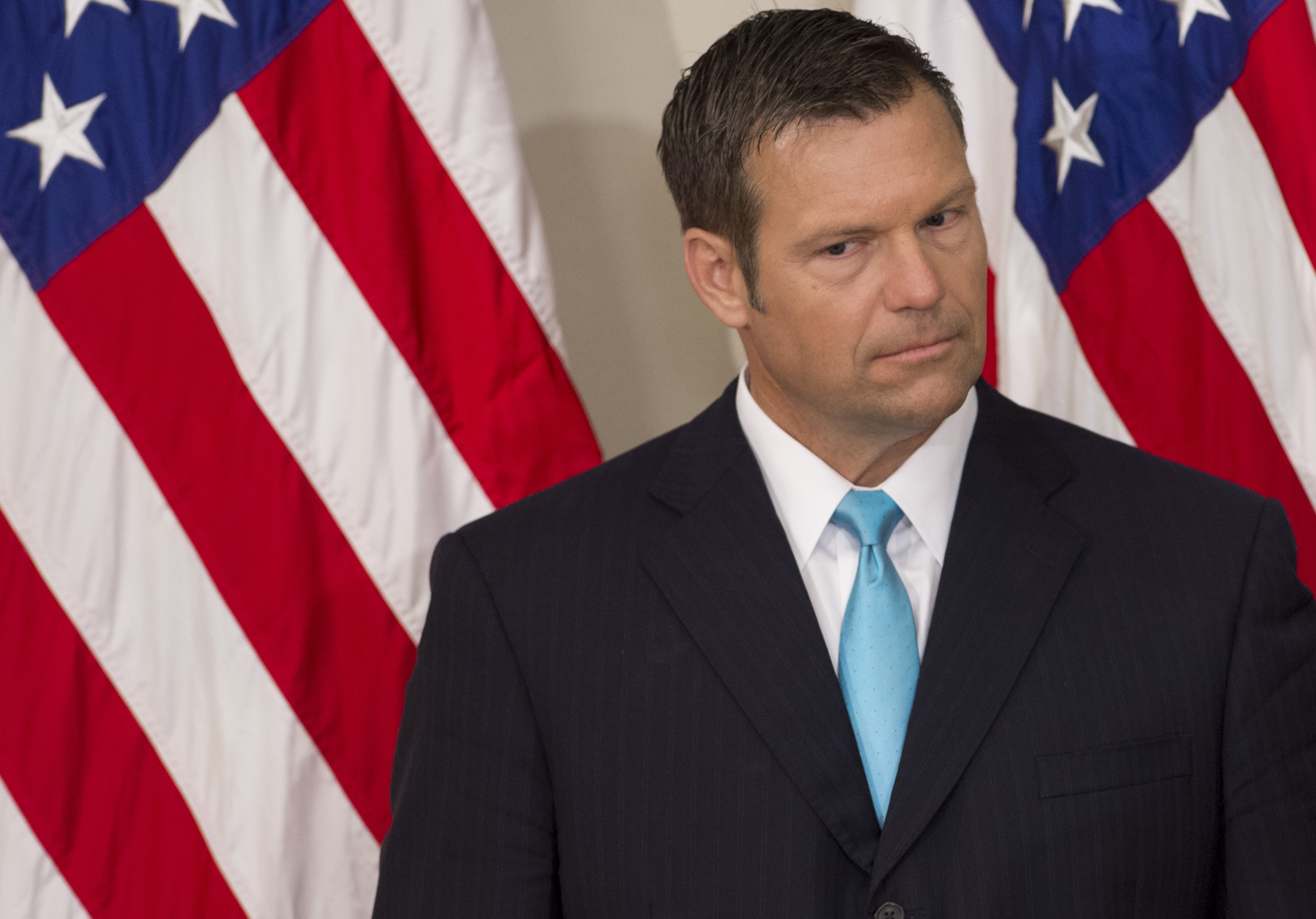 Kansas Secretary of State Kris Kobach suffered another humiliating setback in his fight against a lawsuit which aims to reverse Kansas' relatively harsh voter ID law.
Today in court, Kobach attempted to have an expert witness present testimony on the alleged pitfalls and risks of non-citizens voting in The Sunflower State.
To that end, Kobach called on Steven Camarota, the Director of Research for the Center for Immigration Studies ("CIS"), a think tank largely funded by various right wing foundations, according to the Center for Media and Democracy.
During Camarota's discussion on the subject, attorneys for the American Civil Liberties Union ("ACLU") objected. The ACLU's attorneys noted that Camarota's opinions regarding the "high risk of non-citizen voting" were not included in a report filed with the court by Kobach and his team.
Judge Julie Robinson consulted her notes for a second and then agreed with the ACLU, saying she would disregard everything Camarota had said about this particular point–though aspects of his testimony bearing direct relation to the mentioned pre-trial report were allowed.
In response to Judge Robinson's decision, Kobach admitted a bit of confusion. So, he asked the judge what she meant.
Robinson then explained to Kobach that Camarota was required to outline his opinions in the report and because he had not done so, his testimony on the issue in question was not going to be considered by the court.
This isn't the first time Kobach and co. have failed to abide by very basic levels of civil procedure.
On March 8, in a similar turn of events, Kobach was dinged by the court for attempting to surprise ACLU attorneys with evidence that hadn't yet been presented to the other side. Immediately after that, one of Kobach's attorneys was denied the opportunity to bring up witness testimony because they had failed to abide by fundamental evidentiary standards.
[image via SAUL LOEB/AFP/Getty Images]
Follow Colin Kalmbacher on Twitter: @colinkalmbacher
Have a tip we should know? [email protected]