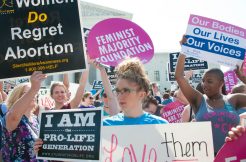 Anti-abortion providers in Illinois won a little victory in their lawsuit against Illinois. On Tuesday, a judge issued an injunction against a new law that'd require them to give information or referrals to patients if they refused to perform the treatment.
"The Court concludes that plaintiffs have raised a 'fair question' about whether SB 1564 unnecessarily burdens their right to be free from government compelled speech to a degree more than necessary to serve the state's interest in educating patients," Winnebago County Judge Eugene Doherty wrote. He framed this as a First Amendment issue, later adding "It is prudent to remember that the issue here is not a dispute over the merits of the message, but the government's power to compel a citizen to speak it."
However, he rejected the plaintiff request that all healthcare provides who objected to the regulation should get shielded, not just them. The requirement is scheduled to take effect on January 1. The Pregnancy Care Center of Rockford, Dr. Anthony Caruso, A Bella Baby OBGYN, and Aid for Women sued in August. The group's attorney said that they would have faced fines of up to $10,000 or lost medical licenses if patients filed successful complaints..
We've reached out to the Illinois Attorney General's Office for comment.
[image via Rena Schild and Shutterstock]
Have a tip we should know? [email protected]