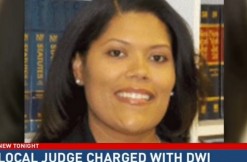 We're pretty much saturated with judge-related stories thanks to the last couple of days, and now, here's one more for you: Rochester City Court Judge Leticia Astacio was arrested for a DWI while on the way to handle arraignment hearings. This reportedly happened around 8 a.m. on Saturday along I-490 in New York State. No, we didn't make a typo there. We meant "a.m."
Astacio, 34, was given a ticket, according to Monroe County District Attorney Sandra Doorley. The State Trooper at the scene also said she refused to take a breathalyzer test.
But she was released in the end, and faces a court date scheduled on March 11. In any case, the charge is a misdemeanor. CBS checked in on her, but she didn't return a call for comment, and neither did a spokesman for the state court system.
She's worked her judicial post since 2014. Before that, she went through an active career, according to the Rochester Democrat and Chronicle. She started her own criminal defense practice. Then before that, Astacio worked at the Monroe County District's Office as part of their—oh, god—drunken driving bureau. Let's take a moment to remind you readers that everyone is innocent until proven guilty.
[h/t Crimesider]
[image of Astacio via ABC 13 screengrab]
–
>> Follow Alberto Luperon on Twitter (@Alberto Luperon)
Have a tip we should know? [email protected]