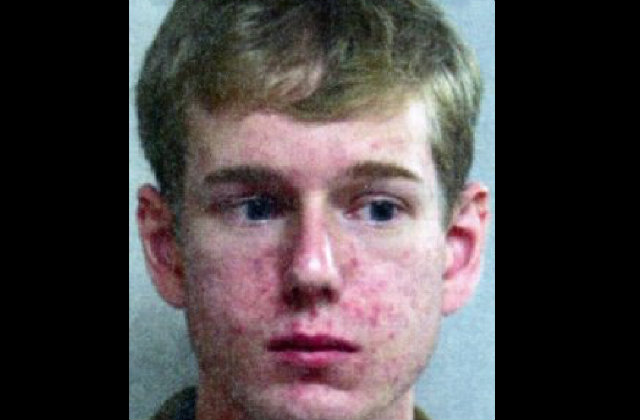 John Edgar Rust was arrested Wednesday for threatening to kill black students at Howard University, according to the U.S. Attorney's Office for the Eastern District of Virginia.
It all started with a threat on 4chan, a website and discussion forum where users can post anonymously. The FBI probable cause affidavit said the agency got a tip from a Washington D.C. resident on Nov. 11, 2015 about those threats.
In the threatening post, written that same day, the anonymous user ranted about black people. They wrote, "I mean we might as well just bend over and let the niggers fuck us right in the ass." The writer later said:
Any niggers left at Howard University after 10 tomorrow will be the first to go. And any of those cheapskate niggers who try to get out using the metro will regret that choice real fast. Sure, the po po will take me down, but I'll go out a hero knowing I made the world better.
The message wrapped up with the line, "After all, it's not murder if they're black." That same day, a Reddit user who goes by the handle "watchouthoward" posted on Reddit with a link to the 4chan threat.
"Hey Reddit, my roommate just posted this on 4chan. Just consider yourselves warned," watchouthoward wrote.
Investigators linked both posts to the same Panera Bread wifi network in Alexandria, Virginia. From there, they were able to link Rust to the case–his credit card was used to buy something at the restaurant.
Investigators say they found evidence proving Rust himself made the threat. There was nearly identical text on his computer, and apparent drafts on his old cell phone. Rust's hard drive also turned up text documents and images of books and articles on subjects like explosives, poisoning, firearms, and how to kill people via hand-to-hand combat.
Rust, a registered sex offender after a 2012 felony conviction for aggravated sexual battery and indecent liberties with a child by a custodian, wasn't even supposed to use the Internet because of the terms of his probation. He has now been charged with the transmission in interstate commerce of a communication containing threats to injure the person of another. That charge carries a maximum 5-year prison sentence, though the U.S Attorney's press statement said the actual sentence could be lower if Rust is convicted.
Rust, once again a criminal defendant, is scheduled for a preliminary and detention hearing at an Alexandra federal court at 2 p.m. on Thursday, October 5. Records do not say if he has an attorney.
[Mugshot via Virginia State Police]
Have a tip we should know? [email protected]