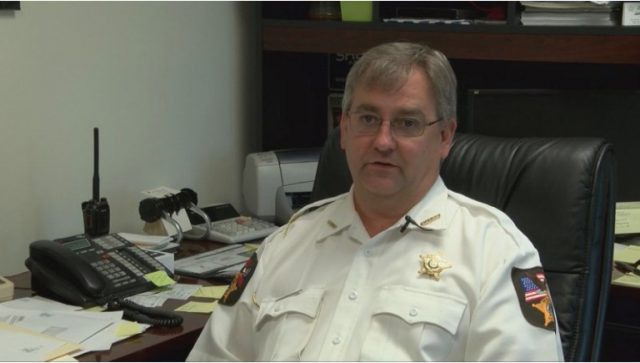 A sheriff in Georgia has been indicted for the sexual assault of multiple teenagers at a high school this past April.
Worth County Sheriff Jeff Hobby and two sheriff's deputies were indicted on sexual assault charges by a south Georgia grand jury on Tuesday after hearing evidence that Hobby and his underlings groped the vaginas and breasts of high school girls and the penises of high school boys during a school-wide search.
That search drew national attention and then condemnation as press reports circulated earlier this year. Ostensibly performed as a drug search, scorn mounted against Hobby and his department as it became clear that not a single drug was found during the pat-downs.
Roughly 900 students were caught in that alleged dragnet–and then touched by 40 members of the Worth County Sheriff's Department at Worth High School on April 14, 2017.
Additional charges against Hobby include two counts of false imprisonment and one count of violating his oath of office–both felonies. The sexual assault charge–technically referred to as "sexual battery" in Georgia–is a misdemeanor.
Hobby's attorney, Norman Crowe Jr., complained that while Hobby himself was at the school, he didn't personally search any of the students in question. In comments to the Atlanta Journal-Constitution, Crowe said, "The sheriff's position is that he's not guilty. He's committed no crime."
Worth County Sheriff's Deputy Tyler Turner was also indicted on one count of violation of his oath of office and one count of sexual battery. Additionally, Deputy Deidra Whiddon was indicted on one count of violation of her oath of office.
Warrants have yet to be issued for either Hobby or his criminally-charged deputies.
Worth County District Attorney Paul Bowden said those warrants would likely be issued as early as today. Bowden also noted that he was preparing a letter to be delivered to Georgia Governor Nathan Deal, who has the authority to suspend Hobby while the criminal proceedings move forward.
Some of the aggrieved students have filed a separate civil lawsuit against Hobby and 29 of his deputies.
[image via screengrab]
Follow Colin Kalmbacher on Twitter: @colinkalmbacher
Have a tip we should know? [email protected]