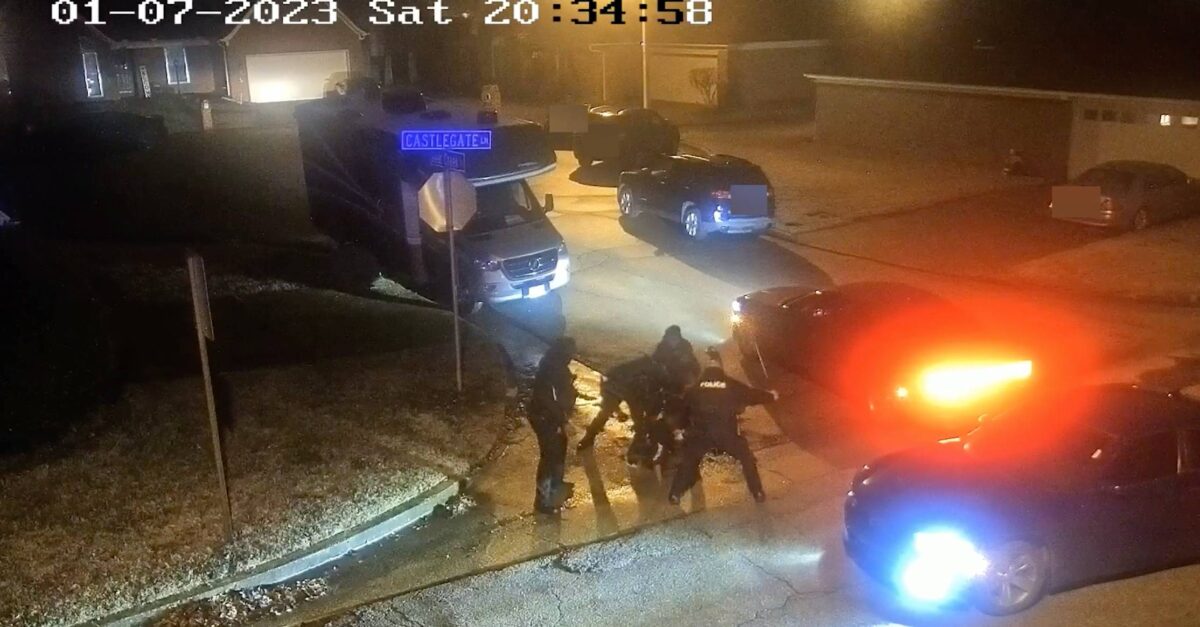 Authorities released video footage Friday showing the violent confrontation between Memphis police officers and Tyre Nichols, who died days after being pulled over for reckless driving in a case that recalled the 1991 beating of motorist Rodney King in Los Angeles.
Police released four videos, some from body-worn cameras and others from a pole camera in a neighborhood. The video from Jan. 7 shows footage from the traffic stop.
In one video, officers can be seen using a baton, punching and kicking Nichols.
The video shows several moments during struggles with officers. At one point Nichols is standing up and then he's down. Police kick him and try to get him down. A fourth officer comes over with a baton and beats him to the ground. At one point it appears he's sucker punched. Officers can be heard screaming, "Give me your f—— hands!" and "I'm going to baton the f— out of you!"
Nichols could be heard repeatedly screaming for his mom.
It appears an ambulance shown 30 minutes into one video and Nichols receiving medical treatment.
The release of the videos sparked protests in Memphis and elsewhere as President Joe Biden Biden called for peaceful protests, saying "he's outraged and deeply pained" by the video. He spoke with 15 mayors across the country earlier to remain in regular contact as protests were anticipated.
Protesters shut down a highway in Memphis. They gathered in Atlanta. In Times Square, hundreds chanted, No Justice! No Peace! and carried signs reading, "End Police Terror."
California and Hawaii police unions issued a swift reaction to the footage.
"The killing of Tyre Nichols at the hands of the five cowardly former Memphis police officers is repugnant and the complete antithesis of how honorable law enforcement professionals conduct themselves every day," the joint statement said. "These accused individuals were fired, charged with murder and other crimes, arrested, fingerprinted, photographed, and jailed, just like any other suspected criminal."
The release of the videos came after attorneys for the family, who had viewed the video, said Memphis police acted like he was a "human piñata."
"Regrettably, it reminded us of [the] Rodney King video," said civil rights attorney Benjamin Crump. "And unlike Rodney King, Tyre didn't survive."
The incident unfolded on Jan. 7 when Nichols, 29, was pulled over for reckless driving, police said. Memphis Police Chief Cerelyn Davis told CNN on Friday that the department has been unable to find any evidence of probable cause to pull Nichols over for reckless driving.
Nichols suffered severe injuries during a confrontation with police officers after a foot chase. Nichols complained of having shortness of breath and an ambulance was called — he was taken to a hospital in critical condition and died on Jan. 10.
The five officers involved were shortly after identified as Tadarrius Bean, Demetrius Haley, Emmitt Martin III, Desmond Mills, Jr., and Justin Smith.
All of the officers were subsequently fired, the police department said in a statement on Jan. 20. The Memphis Fire Department said Monday that two personnel connected to the incident had also been relieved of duty.
On Thursday the five officers were arrested and now face felony charges in connection with the case, the Tennessee Bureau of Investigation said.
Police body camera video in Tyre Nichols case: Viewer discretion advised: 
Law&Crime host Terri Austin's first words after seeing the Nichols footage were "Oh my God, why?"
Austin, an attorney and legal analyst, wants to know why the cops were attempting to stop Nichols initially, then why did they drag him out of his car while not telling him why he was being stopped, or doing anything to de-escalate the situation.
"What was it about his reckless driving that caused the police officers to beat him like this?"
Austin said the decision to release the video late Friday night was no question intentional.
"It was carefully timed – the entire scenario. Not a lot of time transpired between all of the officers being fired and their arrests. They knew the release of this video would upset the community and Memphis wanted the chance to make sure the city was safe."
"I don't fault the city for it because the city is trying to make sure there is peace on the streets," she said. "They have done all they can to make sure it is a quiet weekend."
As for the evidence against the officers, Austin said it's an "open and shut case."
"The video alone is enough to convict. It's hard to see who's doing what – but they must have identified who did the kicks to the head and who used the baton. The police department already said the officers used excessive force and didn't render medical aid."
Austin added she doesn't think the officers would have been charged so quickly without the video footage.
"Videos are very important today and play pivotal roles in these cases. In the case of George Floyd without the video, who knows what would have happened."
"I didn't see anything where Nichols was attempting to fight back or take an officer's gun. What I saw was him trying to cooperate. As a black male, he must have been thinking he has to get out of there. The fatal mistake was running away. That was his death sentence."
Austin said the Nichols case and the beating of Rodney King in the 1990s have similarities and differences.
"Rodney King survived. Nichols didn't. That is the big difference. The other difference is that the officers in the King case were all white. These officers in Memphis were black."
Austin pointed out that both cases were driving infractions that led to the brutal beatings of both men.
As a mother, Austin said this is the most tragic situation one could ever encounter.
"A violent death is something no mother can even imagine."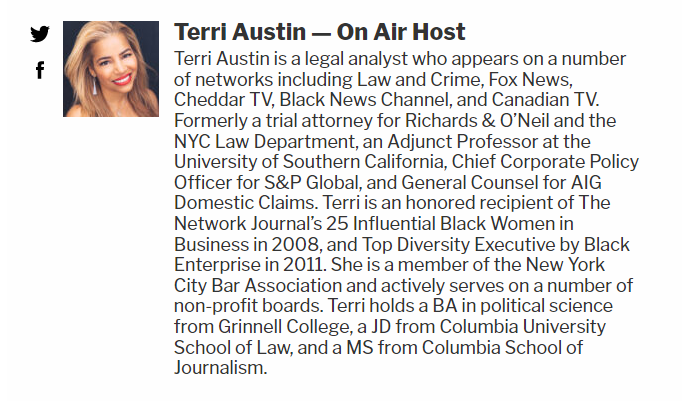 Law&Crime's Eileen Holliday contributed to this report.
Have a tip we should know? [email protected]