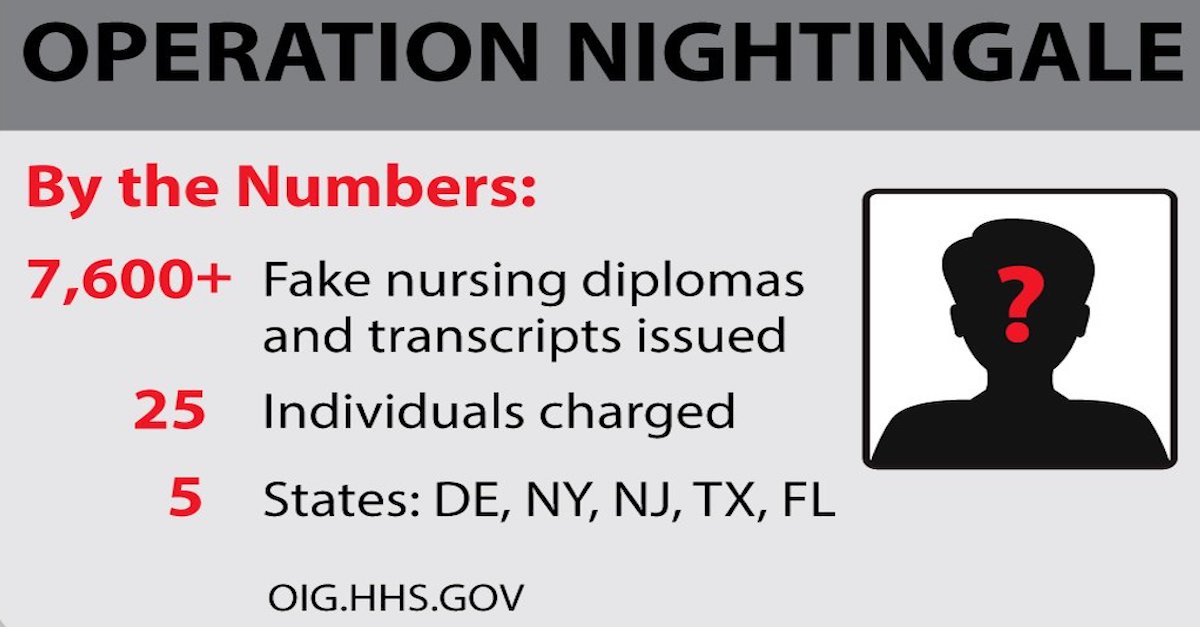 Dozens of people in Florida have been charged in what federal authorities describe as a wide-ranging scheme that resulted in potentially thousands of would-be nurses working in health care without having earned their credentials.
The U.S. Attorney's Office for the Southern District of Florida announced Wednesday that more than two dozen people are facing wire fraud charges as part of a plot that created "an illegal licensing and employment shortcut for aspiring nurses."
Charging documents in "Operation Nightingale" alleged that the defendants sold fake nursing degree diplomas and transcripts obtained from accredited nursing schools based in Florida to people who were seeking licenses and jobs as registered nurses (RNs) and licensed practical/vocational nurses (LPN/VNs).
"The bogus diplomas and transcripts qualified purchasers to sit for the national nursing board exam and, after passing it, to obtain licenses and jobs in various states as RNs and LPN/VNs," the Justice Department said in a news release.
More than 7,600 fake nursing diplomas were issued, the statement added.
More from Law&Crime: Manhattan DA Charges 15 People with Selling and Buying Fake COVID-19 Vaccination Cards, Including Hospital and Nursing Home Employees
The alleged schemes took place at three separate schools in Florida: Siena College and Sacred Heart International Institute, both in Broward County, and the Palm Beach School of Nursing.
In all three instances, a handful of people worked with school employees and owners to recruit and solicit people looking to gain licensed nursing work. In each case, there was an arrangement to create and distribute fake diplomas and transcripts from the schools.
Those transcripts and diplomas were then used by the would-be nursing students to sit for the national nursing exam; upon passing, the aspiring nurses were then eligible for licenses — and, consequently, healthcare jobs — in various states.
At the Palm Beach School of Nursing, more than a dozen defendants were in on the scheme, the DOJ alleges.
"Not only is this a public safety concern, it also tarnishes the reputation of nurses who actually complete the demanding clinical and course work required to obtain their professional licenses and employment," said U.S. Attorney for the Southern District of Florida Markenzy Lapointe, adding that "a fraud scheme like this erodes public trust in our health care system."
Each defendant faces up to 20 years in prison.
The charging documents can be accessed via the DOJ here.
Have a tip we should know? [email protected]