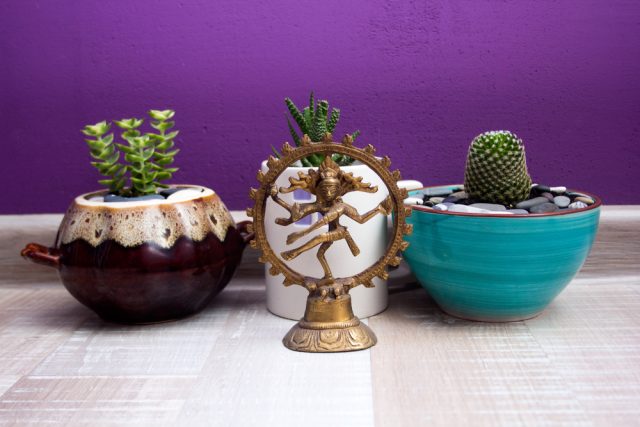 A former secretary with the New Jersey Office of Legislative Services claims that she was fired because her supervisor thought she put a Hindu curse on her. Renee Doersch converted to Hinduism in 2009, four years after she started working at the office. She claims that in 2012 and 2013, supervisor Veronica Lupo accused her of using Indian deities to curse her and her family, causing her husband's death in 2010.
Doersch complained to Human Resources Director Eugene Howard Jr., but says he did nothing. Then, in 2015, Doersch started keeping a statue of the Hindu god Shiva on her desk, and things escalated dramatically. Lupo allegedly complained that the statue was cursing her, and complained to her superiors, leading Howard to confront Doersch, backed by three other office officials, the lawsuit says. At this meeting, Howard showed Doersch a printout of Google search results for the phrase "Indian curse gods," which included Shiva. According to court documents, Doersch said she didn't know anything about that and didn't believe in curses.
Howard then allegedly told Doersch she could no longer keep the statue at work, and accused her of putting curses on Lupo. The lawsuit also states that Howard "made the outrageous statement that disciplinary action would be taken against her for her expression of her religious beliefs."
In December 2015, Doersch took a leave of absence as a result of stress from what she felt was religious discrimination. When she asked Howard about coming back to work the following April, as well as being transferred so she wouldn't be working for Lupo, Howard allegedly "became increasingly belligerent and loud," and again accused her of putting curses on her supervisor.
Later that month, Doersch provided a note from a nurse practitioner, recommending that a transfer was appropriate due to a medical condition. Howard didn't respond to this, the lawsuit says, but in June he sent Doesrch a message saying that if he did not hear from her by July 1, he would assume she didn't want to return to work and that her employment would be terminated. Doersch claims that she responded on June 30 saying she had no intention of resigning, and would return to work under the conditions outlined by the nurse practitioner. Still, she was fired anyway.
Now Doersch is looking for reinstatement at her job, as well as damages including emotional distress, personal injury, back pay, and punitive damages. She claims that her treatment constitutes discrimination, and that her termination was retaliation for her complaints.
LawNewz.com reached out to the NJ Office of Legislative Services for comment, but they have yet to respond.
Renee Doersch v NJ by LawNewz on Scribd
[Image via Shutterstock]
Have a tip we should know? [email protected]