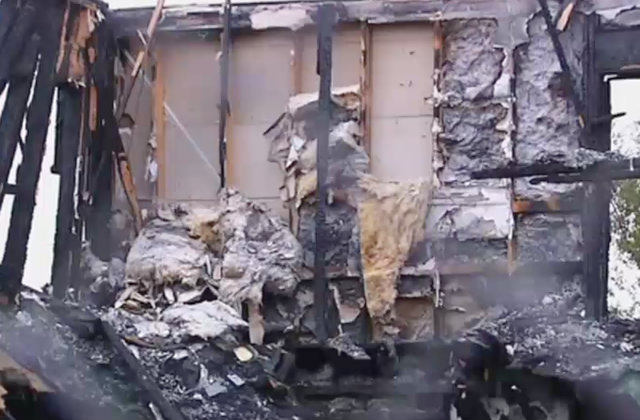 A former town clerk says the people of Hitchcock, Oklahoma harassed him because he is gay and has an adopted black son. It went so far that they did nothing as his house burnt down, he claims. Randy Gamel-Medler is now suing nine defendants, including the mayor and local sheriff, on Thursday.
"The actions of each of the Defendants were part of a common scheme to use force, violence, and intimidation to force the Plaintiff to step down [from office]," said the lawsuit obtained by LawNewz.com. "Such scheme was first announced on September 2016, and which culminated when Defendants burned Plaintiff's house down and did not send out fire trucks.
It started after town trustee Meradith Norris learned Gamel-Medler had a seven-year-old black son, the complaint said.
"What's going to happen when your house burns down and we don't send out the fire trucks?" she allegedly told him at a town council meeting.
This began a pattern of harassment, intimidation, and assault, Gamel-Medler says. He claims that in various incidents, he was called a "f–king queer," and was twice told something to the effect of "we're just going to rip your little n—r boy's head off and s–t down his throat." One person, a convicted felon, allegedly attacked him while he was doing his job, and another is accused of throwing gravel at his house. Various incidents included individuals trying to run his friend off the road, telling him "We haven't run you off yet?" and putting a sign across from the post office which read "The town clerk is a f–king queer."
Gamel-Medler accuses Sheriff Tony Almaguer of downplaying the alleged harassment. For example, the law enforcement official told him the sign was free speech, according to the complaint.
The harassment culminated on May 28, the lawsuit claims. Gamel-Medler alleges that he heard someone breaking into his garage, and then discovered a fire breaking out. He accuses the fire department of not responding properly and letting the home burn down. Meanwhile, some of the alleged harassers were in the area, watching, the complaint says.
A person believed to be the fire marshal said to the Plaintiff words to the effect: "I understand that someone threatened to burn your house down when you first moved here, and that this was in the town council minutes. I suppose the minutes were in your house." Plaintiff responded that the minutes were in his house. The fire official then responded to the effect that, "I guess that takes care of that."
You can read the full lawsuit here:
Town Clerk Lawsuit by LawNewz on Scribd
LawNewz.com reached out to the Blaine County Sheriff's Office and the Blaine County District Attorney's Office, but both declined to comment.
Hitchcock mayor Rick Edsall is being sued because he too allegedly did not effectively respond to the alleged harassment. "This is just how they behave," he allegedly told the plaintiff. He is also accused of sitting in his law chair, just watching as Gamel-Medler's house burned down.
Edsall said that's not true. He claimed that Gamel-Medler was a difficult man, "stirring up crap." He told News9 that he tried to help save the plaintiff's house.
"Our fire department — a volunteer fire department — was at the fire within six minutes, putting the water on it," he said. "I was in my robe, fixing to go to bed when I heard the ruckus, and I went down there and grabbed a hose and started spraying."
He said that he has half-black nieces, and that "We don't care if you're gay or anything else. We're not that way."
According to the outlet, Gamel-Medler was arrested in July for threatening the first responders.
LawNewz.com could not reach the other named defendants for comment.
[Screengrab via News9]
Have a tip we should know? [email protected]