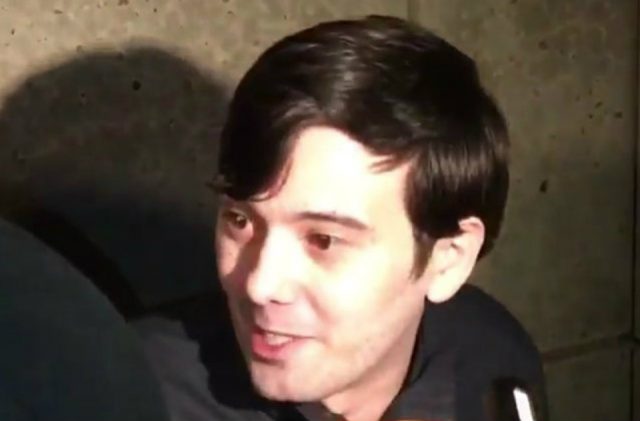 Martin Shkreli may be a freshly-minted felon, but America's anti-ingénue isn't really feeling the heat.
Immediately after being found guilty of three counts (out of eight) against him–and facing the possibility of 20 years in prison–the national treasure known as 'Pharma Bro' smiled for the cameras and declared victory outside the Brooklyn federal court house where prosecutors failed to leverage Shkreli's sandpaper-like public image against him.
The next day, an increasingly confident–some might say strident–Shkreli took to Facebook where he penned a sprawling post summing up his legal state of affairs, taunting the government's mostly unsuccessful prosecution and teasing a new business venture amongst other topics. He began:
"I'm delighted with the outcome of the insane witch hunt against me. The government concocted a fantasy world of eight criminal counts connecting nonexistent dots into an elaborate conspiracy encompassing a dozen people. The jury soundly rejected this idiocy…When the government points every resource they have at you and you walk away unscathed, I call that a huge victory."
The Brooklyn-born entrepreneur also mused as to his possible sentencing while linking to United States Sentencing Commission guidelines for a securities fraud conviction. By Shkreli's own reading of the guidelines, he faces "0-6" months in prison–if any time at all. He also reckons he'd most likely do any stretch of prison time at "Club Fed" to describe a minimum security prison where white collar criminals are treated less severely than other felons.
As Shkreli nonchalantly contemplated federal prison, he previewed his time there thusly: "I'll play basketball and tennis and Xbox."
Before the rec center and video games, however, Shkreli took the time out to thank his supporters–and his ever-appearing bumper crop of haters. He wrote:
"I appreciate all of the support from my fans. However, even more than that, I appreciate the foolish hatred from the uninformed. This propels me to succeed–my net worth is at an all-time high, and my new software startup is the most exciting thing I've ever done. Facing little to no jail time and having stood up to the government face-to-face with no fear, I feel like I can do anything."
[image via screengrab]
Follow Colin Kalmbacher on Twitter: @colinkalmbacher
Have a tip we should know? [email protected]