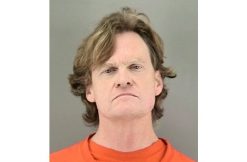 Comic book writer Gerard Jones was recently arrested on child pornography charges. Cops say he uploaded illicit footage to YouTube.
"The child pornography being uploaded involved a prepubescent child performing sexual acts on an adult," the San Francisco Police Department said, according to a KRON4 report from Friday.
The investigation started back in September, according to the outlet. Investigators say they traced the upload to a home, which they searched on Dec. 29.
"During the search warrant, investigators located numerous media devices belonging to one of the residents, all of which contained hundreds of child pornography videos and images depicting prepubescent juvenile minors engaged in sexual acts," they said. "Investigators found videos depicting children as young as one (1) years old having sexual acts performed on them by adults."
This led to Jones' arrest. Police also claim he might have gone to London a few years ago to sexually abuse a minor. They said that investigation remains ongoing.
Besides Stan Lee, comic book writers don't tend to be household names, but Jones was definitely respected and sort-of prolific in this high-turnover industry. He's most known for his 1990s work on DC Comics titles like Justice League America and Justice League Europe, Marvel's Wonder Man, and Malibu's Prime. Jones even won an Eisner Award, the industry's equivalent to the Oscars, in 2005. So this arrest will likely cause ripples among peers and fans despite his low-profile.
Jones faces counts of possession of child pornography, possession of over 600 files of child pornography, production of child pornography, sending harmful material to a minor, and distribution of child pornography. He could not be reached for comment.
[mugshot via San Francisco County]
Have a tip we should know? [email protected]