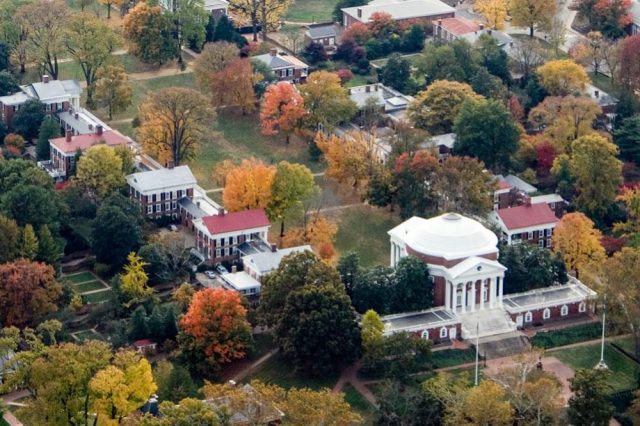 When Jonathan Perkins was a law student at University of Virginia in 2011, he wrote a letter to the editor of the Virginia Law Weekly with allegations that two white campus police officers racially profiled him for being black and treated him improperly. Perkins claimed the the officers stopped him on his way home, claiming he matched the description of a suspect, and after checking his ID, they pushed him against a car and searched him. He also said that they followed him home and wouldn't give him their names or badge numbers.
In the midst of an investigation, Perkins recanted his story and said in a written statement that none of it happened. As a result, he faced university honor charges at a closed-door proceeding. Perkins was acquitted, so he got to graduate, but no details of the trial came out. Now he says that he changed his story under duress, and that FBI agents pressured him into dropping the allegations against the officers.
In an interview with UVA's Cavalier Daily, Perkins, now an attorney with Harvard University's general counsel's office, insists that his story about the officers was true. He also describes what led to him saying he made it up.
According to Perkins, FBI agents got involved in the case, saying they were investigating a possible civil rights case. Instead of looking at possible charges against the officers, however, Agent Robert Hilland allegedly described to Perkins how big of an ordeal it would be if the case went forward—including having to contact his family and future employer—and "promised me that if I just simply told him that it didn't happen, then I could be done with it and no one, no other people would have to be involved."
Perkins said that after a two-hour interrogation, and wanting to get things over with, he wrote a statement saying:
The events described in my Letter to the Editor of the Law Weekly did not occur as I described them.

This statement was not coerced. I wrote the article to bring attention to the topic of police misconduct. The events in the article did not occur.
Perkins signed the statement, along with Hilland and Agent Michael Blakely, as witnesses.
He apparently didn't realize that the statement would lead to him facing charges of his own. Perkins said that the FBI's involvement did come up at Perkins' hearing, and Hilland and Blakely testified against Perkins. He said they claimed to have video evidence that the police incident didn't happen the way Perkins initially described it, but wouldn't produce the actual video when Perkins and his counsel asked to see it.
Perkins claims he waited this long to tell his story because there was a five-year statute of limitations for the Justice Department to bring charges against him related to the incident. Now that the statute has run and no charges were filed, he's speaking out. Also, having worked at two law firms and now being employed at Harvard, he's more secure in his career.
"I am at a place in my career where … I feel more comfortable speaking truth to power and the kind of law enforcement infrastructure that is in play which nearly ruined my career the last time I did it," he said.
The Cavalier Daily contacted the FBI, who said Hilland was not available for comment, and the other agents didn't respond. LawNewz.com reached out to the UVA Police for comment, and will update should they respond.
Have a tip we should know? [email protected]