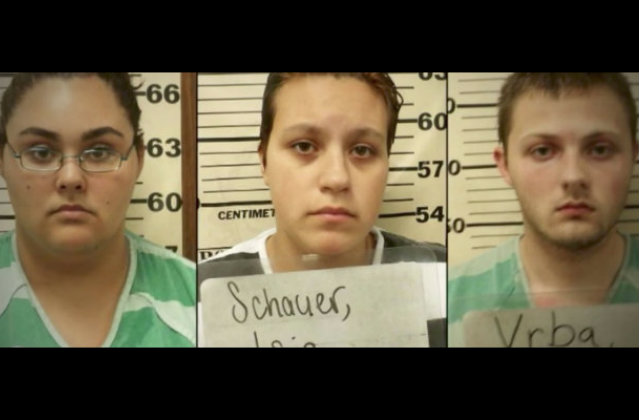 Three people have been arrested for murdering 17-year-old Ally Lee Steinfeld in Texas County, Missouri. Police haven't publicly suggested a motive, but some observers believe it could have been motivated by bias. The victim, a transgender girl whose legal first name was Joseph, was stabbed repeatedly in her genitals and her eyes were gouged out, investigators say.
"There couldn't be a more vivid example of someone being targeted because of their gender identity than being stabbed in their genitals," said Dru Levasseur, director of the Transgender Rights Project for Lambda Legal, in a CNN report on Sunday.
Sarah Warbelow, legal director of the Human Rights Campaign, shared a similar sentiment to the outlet.
"As details of her brutal murder are confirmed, it seems likely that anti-transgender animus played a role," she said in a statement.
The thing is, however, Steinfeld's alleged killers simply can't charged with a hate crime even if prosecutors wanted to do it. 24-year-old Briana D. Calderas, 18-year-old Isis Schauer, and 18-year-old Andrew Vrba were charged with first-degree murder, armed criminal action, abandonment of a corpse, and tampering with physical evidence, a class A felony. They face the death penalty. James Grigsby, 25, was also charged with abandonment of a corpse and tampering with evidence.
Amid criticism, the Texas County prosecutor Parke Stevens Jr. explained in a statement Thursday that these crimes aren't covered by Missouri's hate crime statute. Indeed, that law only amplifies lesser crimes including assault, harassment, and trespassing "which the state believes to be knowingly motivated because of race, color, religion, national origin, sex, sexual orientation or disability of the victim or victims." (Missouri law defines sexual orientation to include transgender people.)
The suspects here are already facing "the highest and most severe form of punishment available," Stevens said, and thus there is no enhanced penalty available.
Have a tip we should know? [email protected]