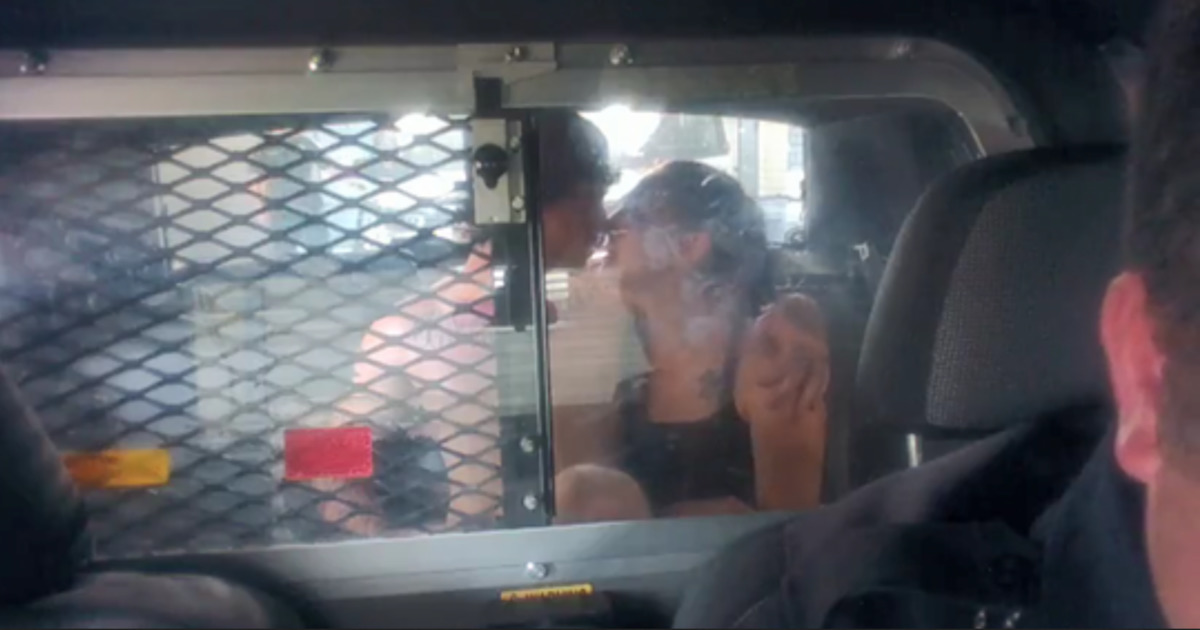 A police officer in Florida was disciplined after allegedly allowing a pair of suspects to engage in some manual sexual activity in the back of his patrol car last summer.
According to an internal affairs report released Friday, 23-year-old Zachery Moellendick and 24-year-old Krista Leigh were taken into custody for allegedly shoplifting at a Walmart in July 2018. The report claims the couple had stolen jewelry and a stolen baby toy in their possession, so Fort Pierce Police Officer Doug McNeal arrested them and escorted the duo to his vehicle.
Per that report, Moellendick was placed inside the car without handcuffs. At the time, he reportedly had a lighter in his pocket and a cigarette tucked behind one of his ears. Leigh was handcuffed non-traditionally–with her hands in front of her. Neither suspect was wearing their seat-belt during the ride in question.
The Fort Pierce Police Department alleges that Officer McNeal violated policy by failing to properly search or restrain the couple before the trip even started.
But once the ride did start, the report claims, those departmental violations steadily increased.
Video appears to show the couple kissing and cuddling on the way to St. Lucie County Jail. At some point, Officer McNeal apparently decides to help the atmosphere a bit by playing Barry White's mood-setting classic love song, "Can't Get Enough Of Your Love."
Once the trio arrive at the jail, Moellendick asks if he can smoke. McNeal apparently lets him do so, but says to smoke inside the car because jail employees won't let anyone smoke outside, according to the report. Department regulations prohibit the use of tobacco in patrol cars.
Then, according to the report, Officer McNeal started finishing up his paperwork; while the couple started working on something else entirely.
"Due to Leigh and Moellendick's body posture and arm movements, it is apparent Moellendick and Leigh are sexually pleasuring each other with their hands," the internal affairs report reads. "This continues for approximately six minutes."
The report continues on:
During Detective Eason's interviews with Leigh and Moellendick, Leigh stated Moellendick "fingered" her while she gave him a "hand job". Moellendick stated he "got her off and she got me off." During Detective Eason's interview with McNeal, when asked about Leigh and Moellendick's kissing and cuddling while in transport to the jail and when parked in the jail sally port, McNeal stated he saw the activity and "was fine with it." He denied seeing any sexual activity. All the actively [sic] was captured by McNeal's [body worn camera] which was positioned below his rear view mirror.
"Two St. Lucie County Deputies appear behind the patrol car and appear to take notice of the activity," the report notes.
McNeal was ultimately subjected to a 20-day suspension without pay.
Read the full report below:
Fort Pierce Police Officer … by on Scribd
[image via Fort Pierce Police Department]
Have a tip we should know? [email protected]