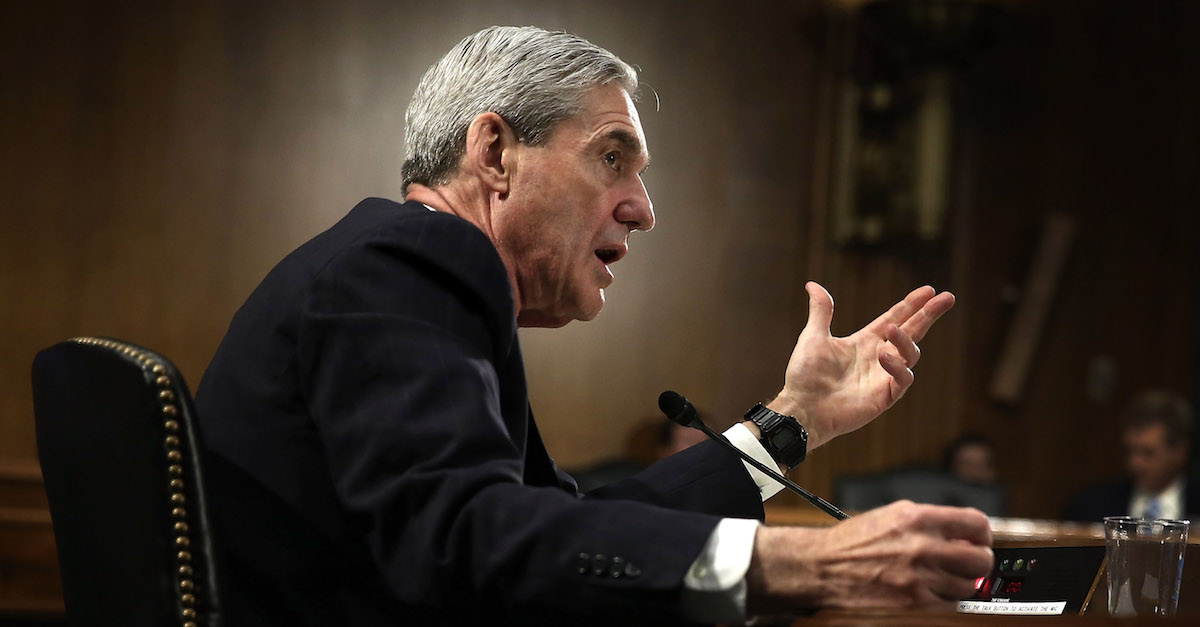 Special counsel Robert Mueller filed a long-awaited and partially-redacted sentencing memo for Paul Manafort on Friday with U.S. District Judge Amy Berman Jackson.
Pulling no punches across the 25-page filing, Mueller's team details a stunning collection of crimes–both admittedly and allegedly–committed by Manafort while suggesting the former Trump 2016 campaign be subject to severe punishment for his actions.
"Manafort chose repeatedly and knowingly to violate the law," the filing notes, "whether the laws proscribed garden-variety crimes such as tax fraud, money laundering, obstruction of justice, and bank fraud, or more esoteric laws that he nevertheless was intimately familiar with, such as the Foreign Agents Registration Act (FARA). His criminal actions were bold, some of which were committed while under a spotlight due to his work as the [Trump] campaign chairman and, later, while he was on bail from this Court."
The filing outlines the extraordinarily broad and deep nature of Manafort's ongoing criminal conduct:
[T]he crimes he engaged in while on bail were not minor; they went to the heart of the criminal justice system, namely, tampering with witnesses so he would not be held accountable for his crimes. Even after he purportedly agreed to cooperate with the government in September 2018, Manafort, as this court found, lied to the Federal Bureau of Investigation (FBI), this office, and the grand jury. His deceit, which is a fundamental component of the crimes of conviction and relevant conduct, extended to tax preparers, bookkeepers, banks, the Treasury Department, the Department of Justice National Security Division, the FBI, the Special Counsel's Office, the grand jury, his own legal counsel, Members of Congress, and members of the executive branch of the United States government.
One of the prevailing themes contained in Mueller's initial 25-page sentencing memo (which also features some 823+ pages of supporting documentation) is the idea that Paul Manafort is a hard-boiled scofflaw with no ability or desire to stop committing crimes.
"[U]pon release from jail, Manafort presents a grave risk of recidivism," Mueller's deputy Andrew Weissmann argues early on.
The sentencing memo then outlines each charge against the defendant with brief recitations of the subterfuge allegedly employed so as to frustrate each successive law enforcement inquiry.
Manafort's FARA violations, the filing argues, "exemplif[y] Manafort's boldness in choosing to disobey the law, as he committed his FARA violations after being warned by the Department of Justice about the law's structures and after resigning a Presidential appointment in connection with the Department of Justice review."
"Manafort's witness tampering is notable because it occurred after he had already sought to obstruct the government's FARA registration by causing his lawyer to submit false statements to the Department of Justice on a host of topics," the filing notes. "Then, after indictment and while on pretrial release from two courts, he again obstructed justice by repeatedly seeking to have witnesses lie for him, and getting another…to participate in that obstruction."
This section concludes by noting the lies that doomed his plea deal:
Manafort's conduct after he pleased guilty is pertinent to sentencing. It reflects a hardened adherence to committing crimes and lack of remorse.
Scaffold is High and Eternity's Near
To be clear: Mueller's team is decidedly not suggesting a particular sentence for Manafort. They're just strongly hinting that his sentence should be fairly long in order to keep him off the street and to warn others off from mimicking such activity.
"Specific deterrence is thus at its height, as is general deterrence of those who would engage in comparable concerted criminal conduct," the filing suggests.
So how long might that sentence be? Well, after all of Manafort's admitted and alleged crimes are taken into account, the federal sentencing guidelines recommend between 17-and-half and just shy of 22 years in prison.
The special counsel's office is not recommending the court issue a sentence in lock-step with these guidelines, however, but says they're simply putting the guidelines out there with the caveat that Manafort has apparently done nothing that would or should mitigate any departure from said guidelines.
"Based on his relevant sentencing conduct, Manafort presents many aggravating sentencing factors and no warranted mitigating factors," Mueller and Weissmann argue early on.
"Nothing about Manafort's upbringing, schooling, legal education, or family and financial circumstances mitigates his criminality," the memo notes a bit later. "Indeed, as part of his plea agreement, Manafort agreed that, although he could dispute for instance the guideline calculation as to role in the offense, a downward departure from the government's estimated sentencing guideline range of 210 to 262 months is not warranted…"
But as both former U.S. Attorney Preet Bharara and USA Today's Brad Heath have noted, the sentencing guidelines referenced are far in excess–almost double–what Judge Jackson can actually sentence Manafort to under the statutory maximum sentence.
In essence, Mueller seems to be arguing that Manafort deserves around 10 years. Expect the sentence to be somewhere right around there–but as for whether Manafort will be allowed to serve it concurrently or forced to serve it consecutively with his previous sentence in the Eastern District of Virginia is anyone's guess. And, as with the exact range of sentencing, Mueller's team remains agnostic on this point–but has reserved the right to offer their opinion later on.
[image via Alex Wong/Getty Images]
Have a tip we should know? [email protected]