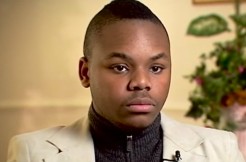 "Dr. Love" just wanted a new car.
Malachi Love-Robinson, 19, was arrested Friday in Virginia. Deputies from the Stafford County Sheriff's Office said he tried to buy a $35,000 Jaguar, giving the dealership fake employment information. He was accompanied by an elderly woman, allegedly listed as a co-signer in the loan application. Employees got suspicious, thought he might have been committing fraud, and told deputies about it.
Investigators later arrested Love-Robinson. The woman reportedly told them she was a distant relative. According to deputies, she said no, she didn't have any plans to co-sign on the Jaguar loan, and that she didn't know he was using her credit card to make the purchase. According to deputies, Love-Robinson may have also used her card to fraudulently buy two iPad tablets and a cellphone. He remains at the Rappahannock Regional Jail.
Love-Robinson is familiar with the legal system. Since January 2015, the teen been accused several times of pretending to be a doctor, going by the name, "Dr. Love." In February, he was arrested by Florida authorities for practicing medicine without a license, even running a clinic. And in the most bizarre instance, sheriff deputies arrested him in a Palm Beach, Florida courtroom during the same hearing in which his defense lawyer asked to withdraw from the case.
[Screengrab via WPBF]
–
Follow Alberto Luperon on Twitter (@Alberto Luperon)
Have a tip we should know? [email protected]