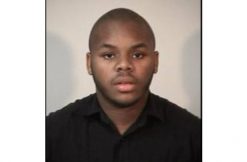 There's another development in Malachi Love-Robinson's ongoing legal troubles. Virginia authorities announced Wednesday that a grand jury indicted the 19-year-old "Doctor Love" for allegedly filing a false earnings statement to buy a $35,000 Jaguar.
According to a statement from the Stafford County Sheriff's Office, he showed up to a car dealership with an elderly woman on Sept. 9. He told employees that she was going to co-sign on the vehicle, but they started getting suspicious because certain things he said.
"They googled his name and found that a subject with the same name had been arrested numerous times on fraud type charges in the State of Florida," the statement says. "The employees became more concerned because they felt Mr. Love-Robinson may be trying to fraudulently obtain the Jaguar and be stealing money from the elderly female he claimed to be his mother."
Long story short, they called authorities and deputies questioned the pair. The woman allegedly claimed she considered herself Love-Robinson's "God-Mother," and didn't feel in danger or taken advantage of—but she had no plans to co-sign on the Jaguar. "Her demeanor then changed" after they reportedly showed her that Love-Robinson signed a credit application with her social security number.
Love-Robinson had also been accused of using her credit card to buy two iPads and a cell phone. He faces charges of false statements to obtain credit, obtaining money by false pretenses, and identity fraud.
He became pretty infamous in February after authorities in West Palm Beach, Florida claimed he practiced medicine without a license. They claim he ran his own clinic (which he ran under the name "Doctor Love"), and stole checks from a patient. He denied the Florida accusations in a February press conference, but got arrested again in March, this time for identity theft.
We reached Love-Robinson's Virginia attorney George Marzloff, who says his client will face an arraignment hearing on Jan. 20.
"I expect the plea to be not guilty at this point," he said.
Update – Jan. 12, 11:47 a.m.: We've added a statement from Love-Malachi's Virginia attorney. You can read it in the main body of the article.
Update – 8:07 p.m.: We edited the text above to better clarify that Florida authorities arrested Love-Robinson twice: once in February, and again in March.
[Screengrab via ABC]
Have a tip we should know? [email protected]