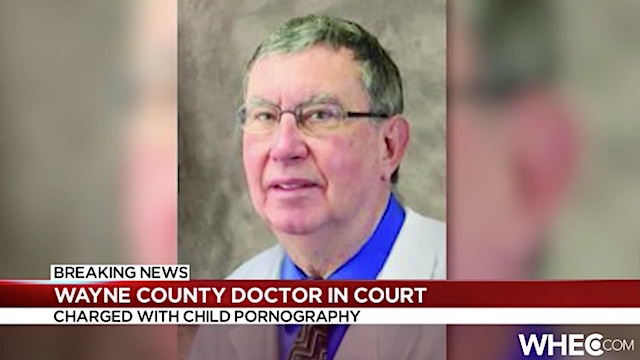 A Western New York State doctor has been arrested and charged with receipt and possession of child pornography, according to a federal criminal complaint obtained by Law&Crime. The doctor, David Blasczak, of Newark, New York, and with offices in nearby Clyde, allegedly admitted to both purchasing and creating sexually explicit images of children, the complaint says, and confessed to taking photos of the genitals of children at his medical office. Read the criminal complaint below.
The federal investigation into the doctor began when agents in Arizona started digging into a suspected child pornography website, which is not named in the complaint. The agents eventually obtained payment records for purchases made on that website, but one of the payment processors is also not named in the complaint. Federal agents eventually began tracing the payments back through PayPal, and that information led them to the doctor's name, addresses, and financial accounts.
While state police and federal agents were raiding his home, Dr. Blasczak initially denied having images or videos of child pornography, but later admitted it, police said. He also allegedly admitted to buying child pornography online. The doctor even told agents what his "favorite type of child pornography" was, the complaint says. The complaint goes on:
BLASCZAK denied ever abusing any of his child patients, but admitted to Agents that he previously photographed the genitals of children at his office. When asked, BLASCZAK claimed that he was conducting his own independent research about child sex abuse and paid the parents of approximately 8 children to photograph the children's genitals. BLASCZAK told Agents that he told the parents that he was conducting medical research. BLASCZAK admitted that he was not sanctioned by a hospital, university, medical organization or any other professional medical board to photograph children's genitals.
It gets worse. After state police and federal agents took him back to the local state police barracks, Dr. Blasczak allegedly admitted to sexually touching and photographing his now-deceased daughter's friends during sleepovers. He also admitted to masturbating to the photos of patients and family friends, according to the criminal complaint.
WHEC-TV in nearby Rochester, New York reports that there were two other criminal investigations into the doctor, neither of which resulted in any charges. One woman told WHEC-TV that the doctor approached her husband about photographing her very young daughter's genitals, purportedly so that the images could be used as a comparison images in cases where other children had been abused. The woman told the TV station she vehemently refused.
[Image via screen grab from WHEC-TV.]
Have a tip we should know? [email protected]
Aaron Keller - Deputy Editor-in-Chief