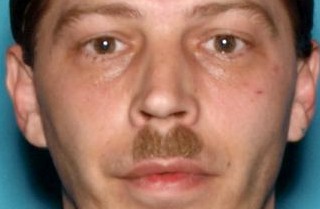 The man who named his son Adolf Hitler and daughter Eva Braun was arrested in Pennsylvania Thursday for attacking his fiancée, police say. Isidore Heath Campbell, 42, had been on the run since the alleged October incident in Holland Township, New Jersey.
Bethanie Zito, the alleged victim, told NJ.com in March that she made up the attack.
"They [cops] are refusing to allow me to drop the charges even though I admitted I lied," she said. "I'm trying to drop the lie that was put on him."
Zito originally claimed Campbell hit her during an argument. She now claims he left after the argument, but never struck her. She then apparently went to work in a shed, and started throwing things around. That's went a shelf unexpectedly fell on her, cutting her face.
"We have to get his side of the story," Sgt. Sean Gutsick of the Holland Township Police Department told NJ.com. "And we have to be convinced that she wasn't coerced into saying this now."
This isn't the first time Campbell has been linked to an attack on Zito. In fact, it was his then-wife Deborah Campbell who was charged in 2014 with hitting Zito, who later claimed the allegation was just a misunderstanding.
"We were trying to rush down the stairs to get cigarettes," Zito told the NY Daily News in 2014. "I got clumsy and slid. Her elbow hit my eye."
Isidore Campbell became infamous in 2008 for telling a baker to make a cake that read, "Happy Birthday Adolf Hitler" for his son.
The unwanted national attention lead to a 2013 custody battle over his kids. Yet rather than hide his commitment to National Socialism, he attended hearings rocking a Schutzstaffel uniform, a swastika armband, and a toothbrush mustache. He has somehow lost custody of all nine of his kids by five women as of 2014, including Eva Lynn Patricia Braun, one of the youngest.
The NY Daily News called him in October about the alleged incident, but only got his voicemail, in which he called himself "The Fuhrer," and closed out with "Heil Hitler."
He has been charged with aggravated assault
[h/t NY Daily News]
[mugshot of Campbell via Hunterdon County Prosecutor's Office]
–
Follow Alberto Luperon on Twitter (@Alberto Luperon)
Have a tip we should know? [email protected]