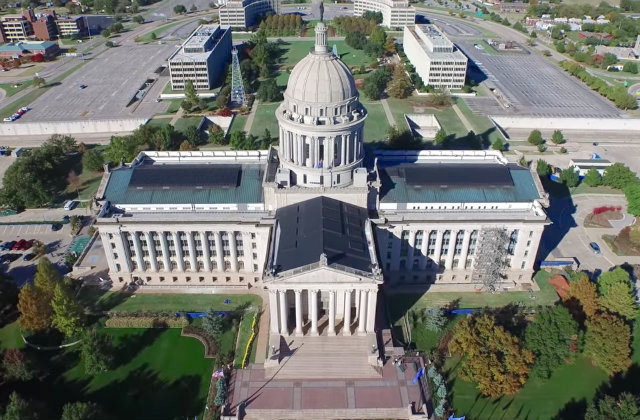 Oklahoma's Speaker of the House is in damage control after one building staffer sent out a message with decidedly bigoted language. Over 70 LGBTQ students visited the Capitol in Tulsa, lobbying on Monday's National Youth HIV and AIDS Awareness Day. This prompted an email blast ostensibly from Karen Kipgen, who runs the Page program. Here it is, as obtained by NewsOK:
As per the Speaker's office, Pages are being allowed access to the ladies restroom across from 401, for today. Again, there are cross-dressers in the building.
"Cross-dressers in the building." This message was reportedly meant to announced that pages could use private staff and member restrooms because the LGBTQ group was visiting the Capitol. With its apparently anti-trans language, it reads like a warning.
KOCO 5 reached out for comment, but instead of reaching Kipgen, they got a statement from Republican House Speaker Charles McCall. He bent over backwards to distance himself from the email, saying he had nothing to do with it.
"The remarks contained in the email are not condoned by me or the office of the Speaker," he wrote. "All Oklahomans should feel welcome in the Oklahoma Capitol building."
He said his office is investigating the incident. We've reached out to Kipgen for comment.
Oklahoma's ACLU remains ambivalent about McCall, however. On one hand, the sentiment behind his letter was welcome. On the other hand, they say McCall has been willing to let anti-LGBTQ legislation to advance in the current session. From the statement by executive director Ryan Kiesel:
Of course they are welcome at the Capitol. It is their building as much as it as any other Oklahomans'. To welcome them to the Capitol is little consolation to LGBTQ Oklahomans who, if SB 197 had become law, would have been unwelcome in many other places in Oklahoma. If Speaker McCall wants a truly welcoming state, then he needs to commit that hateful and discriminatory legislation will have no safe harbor in the House of Representatives as long as he is Speaker of the House.
SB 197 would give legal protections to business owners refuse any sort of marriage-related service to LGBT people because of religious beliefs, or what the bill calls "conscience."
[Screengrab via Matt Skuta and YouTube]
Have a tip we should know? [email protected]