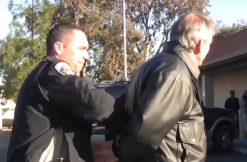 A federal appeals court ruled Wednesday that a California Highway Patrol officer shouldn't have arrested a pastor who was preaching.
Mark Allen Mackey was reading the bible outside a DMV in the city of Hemet on Feb. 2, 2011. A security guard asked him to leave, as seen in the video below. After he didn't, CHP officer Darren Meyer arrived and immediately arrested Mackey under a California law that prohibits people from intentionally interfering with lawful businesses or occupations open to the public (California Penal Code Section 602.1). The preacher later faced charges under another statute that required a permit for demonstrations or gatherings on state property (California Code of Regulations, Title 13, 1860a), though he was cleared of any wrongdoing.
For the court, Meyer simply lacked probable cause to arrest Mackey under the Fourth Amendment and these laws. They say that before arriving, the officer had no evidence the preacher was intentionally interfering with the DMA.
"Upon arrival, Meyer encountered Mackey reading his bible aloud in a dirt patch, neither obstructing nor intimidating anyone in line," the opinion from the Ninth Circuit states. But for the court, video and footage proved there was no actual confrontation with the DMV.
You can see the video here, published by Mackey's colleagues at the Advocates for Faith & Freedom. Meyer shows up at the 2:20 mark.
"You've been asked to leave, and you didn't," Meyer said, arresting Mackey. He explained that the preacher couldn't preach there because people at the DMV were a captive audience.
The judges also decided that Meyer lacked qualified immunity, and that Mackey could in fact pursue damages for false arrest and imprisonment. This ruling reverses and remands a district court decision, so the case isn't over.
You can read the full opinion here.
[Screengrab via Advocates for Faith & Freedom]
Have a tip we should know? [email protected]