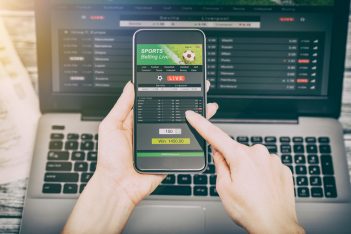 You might not know it from all the sports talk radio and television segments about weekend odds during football season, but betting on sports is actually illegal in most of the United States.
Congress passed the Professional and Amateur Sports Protection Act ("PAPSA") in 1992 and essentially banned gambling, with exceptions for Nevada, Delaware, Oregon and Montana. However, given his background as a one-time casino owner, some in the industry are reportedly hopeful that Trump will finally be what is needed to overturn the 25-year-old federal ban.
A lot has changed in 25-years, mostly due to the development of the internet, you now have offshore gambling and the rise of daily fantasy sports (and the ongoing fight over its status as gambling or game of skill).  None of which was even on the radar back in 1992.  What's more, the commissioner of a major American sports league, NBA commissioner Adam Silver, is now actually a proponent of legalized gambling.
According to Fox Business, Silver's support has led others to take a new look at possibilities of legalized gambling.  It some ways,  it seems analogous to the recent changing attitudes about marijuana after politicians saw the tax potential associated with legalizing the drug.  The talk of an expanded sports gambling industry generally seems to center on the possibilities of taxation that would go along with it.  If tax revenue projections for sports gambling are anywhere close to as high as some of the numbers from legalized marijuana recently reported out of Colorado, it seems likely that politicians from cash strapped states would throw their support behind overturning the federal ban.
Geoff Freeman, president and CEO of the American Gaming Association recently told the network, "We are entering a perfect storm of interests among broadcasters, among owners of individual sports teams, we have what's clearly been 25 years of a failed law."
Freeman then referenced Trump's interview with sport radio host Colin Cowherd in November 2015.  As the GOP frontrunner at the time, Trump was asked about sports gambling and daily fantasy sports and replied, "I'm OK with it because it's happening anyway. Whether you have it or you don't have it, you have it."
Freeman takes it as a good sign, saying, "I think we have everything coming together to support a regulated environment."
But perhaps most importantly, proponents of ending the ban say all it has accomplished is the creation of a massive black market or underground gambling operation worth billions.  According to the American Gaming Association — a major pro-gambling lobbying group — the current underground gambling market, with no regulation, handles at least $150 billion in illegal bets per year.
Trump's Transition Team did not comment to the network on their plans for the future of sports gambling.
However, some believe a major effort will be launched early in Trump's first term to repeal the 1992 law. Again, as has happened with marijuana, public opinion is reportedly changing, rapidly, and that makes it easier on politicians to vote to repeal the law.
And if Congress is still not quite ready, a handful of states have lawsuits pending already, essentially trying to get around the 1992 ban.  It may take just one favorable court opinion and that could pave the way for other states to open up gambling within their borders.
[image via shutterstock]
Have a tip we should know? [email protected]