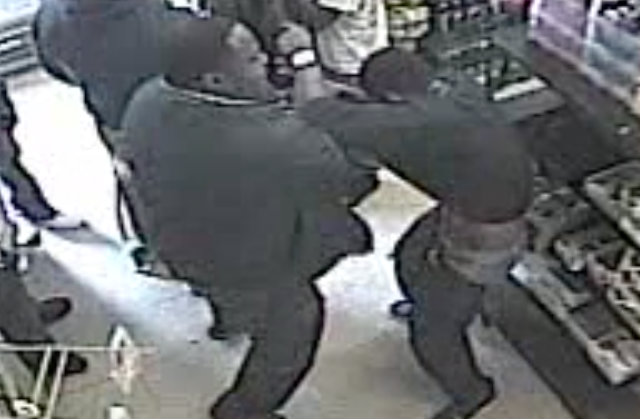 On Friday, appellate judges upheld the conviction of a Chicago cop who "sucker-punched" a store clerk in 2012. That's not our word. That's how the court described it in their opinion.
While investigating a tip that illegal drugs were being sold from a south-side convenience store, Chicago Police Officer Aldo Brown sucker-punched a store employee for no apparent reason. As the dazed employee attempted to stagger away, Brown continued to beat and kick him for about two minutes. The beating was caught on the store's surveillance camera.
Brown wrote an arrest report saying it was necessary because the clerk, Jecque Howard, reached for a firearm. Surveillance footage showed no such thing. In his trial in an Illinois federal court, the officer tried to get expert testimony from a former Chicago cop who would have said that his actions were consistent with police policy. But a U.S. District Judge shut him down, saying this testimony was irrelevant to the charge–willfully depriving Howard of his Fourth Amendment right to be free from excessive force by a police officer–and could involve an inappropriate analysis of Brown's mental state.
The officer received a two-year prison sentence in 2016. Nonetheless, he tired to fight his conviction, and brought his case to the 7th Circuit. The trial judge made a mistake by turning down his expert witness, he said. The trio of appellate judges disagreed on Friday. In her opinion, Diane S. Sykes said that in this case, a lay jury didn't need an expert's help to determine if Brown's actions constituted excessive force. They didn't need "specialized knowledge" and could figure it out themselves. In any case, police policy was beside the point. What mattered was whether Brown violated the Fourth Amendment.
"Worse, if compliance with departmental policy were the applicable legal standard, the police department itself would become the arbiter of Fourth Amendment reasonableness—a prospect that would have horrified those responsible for the Amendment's ratification," she wrote.
LawNewz reached out to Brown's attorney for comment.
[Screengrab via U.S. Attorney's Office]
Have a tip we should know? [email protected]