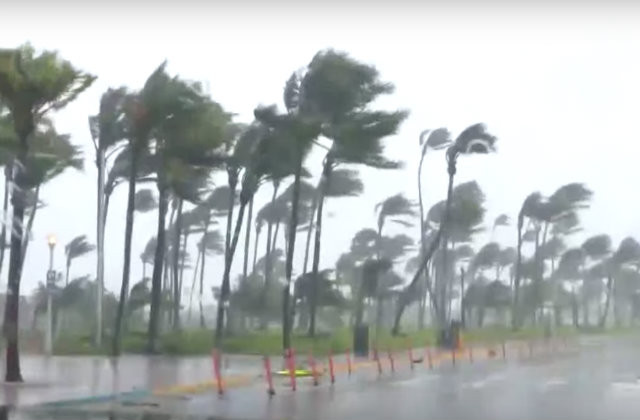 Hey, Florida, don't shoot Hurricane Irma. Please. A viral Facebook post has law enforcement a little worried that people might actually pop caps into a storm. Here's what the Pasco County Sheriff's Office said Saturday night.
To clarify, DO NOT shoot weapons @ #Irma. You won't make it turn around & it will have very dangerous side effectshttps://t.co/CV4Y9OJknv

— Pasco Sheriff (@PascoSheriff) September 10, 2017
Gun control organizations like The Coalition to Stop Gun Violence and Newtown Action Alliance followed up with similar warnings. This comes after a "Shoot At Hurricane Irma" event went viral on Facebook.
Scheduled for Sunday, the details read thusly: "YO SO THIS GOOFY LOOKING WINDY HEADASS NAMED IRMA SAID THEY PULLING UP ON US, LETS SHOW IRMA THAT WE SHOOT FIRST." As of Sunday morning, about 54,000 Facebook users were interested, and 27,000 were participating. It's unclear how many were joking.
"I never envisioned this event becoming some kind of crazy idea larger than myself," Ryon Edwards, the event creator, told the BBC in a Friday report. "It has become something a little out of my control." He said he wrote the post because of boredom and stress.
He followed up in a Facebook comment under the event Sunday morning.
"Well guys, it's here," he wrote. "The moment we've been waiting for. It was cool to see the response this got from facebook. On another note, I've learned that about 50% of the world could not understand sarcasm to save their lives. Carry on."
No, but really, guys, don't shoot your guns into the sky. The bullets will eventually fall back down to the ground, and can injure, even kill, someone.
Hurricane Irma made landfall in the Florida Keys on Sunday morning as a Category 4 storm with 130 mph winds. It is expected to make its way up the Sunshine State, eventually reaching Georgia and getting weaker all the while. The storm could reach Tennessee early Wednesday morning, perhaps as a tropical storm.
[Screengrab of Hurricane Irma in Miami, Florida via The Washington Post]
Have a tip we should know? [email protected]