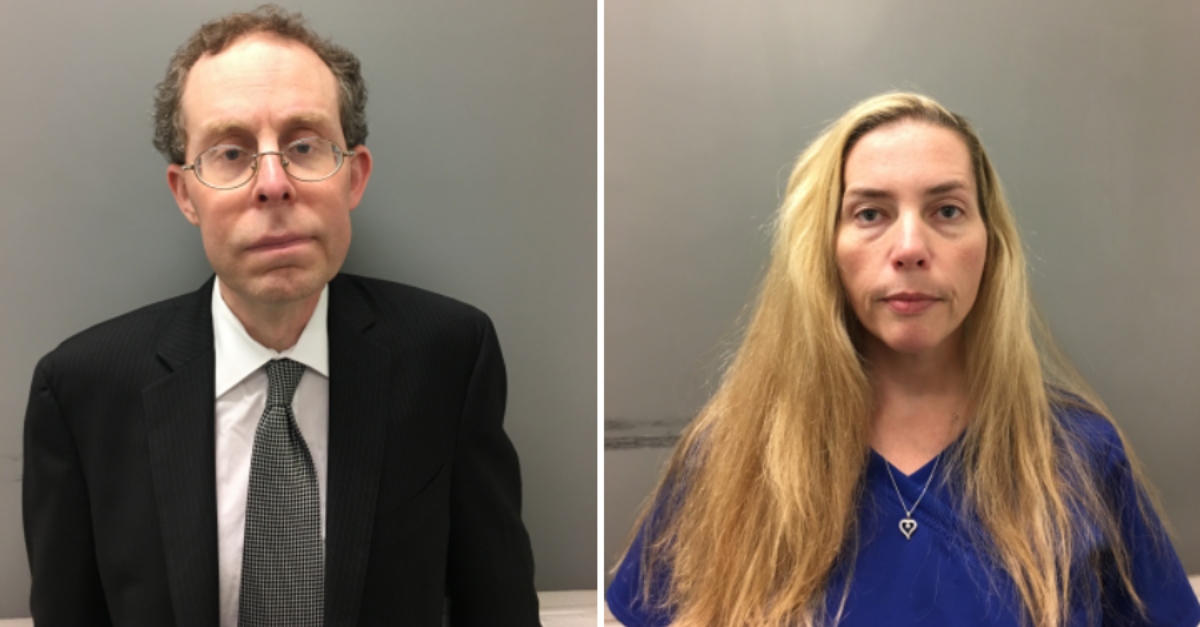 A couple has been arrested for allegedly taking intimate pictures of incapacitated women. The pair called this their "mission," according to prosecutors with the Bucks County, Pennsylvania District Attorney's Office.
Lawrence Jay Weinstein, a former Northampton Township supervisor, and his girlfriend Kelly A. Drucker face multiple charges, including false imprisonment, invasion of privacy, recklessly endangering another person, and criminal conspiracy.
The investigation started after a man in August discovered "illicit messages" on a phone that Drucker used to own, authorities claim.
County detectives determined the couple started plotting back in October 2017. This resulted in the alleged victim joining Drucker for a dinner at a Mexican restaurant on Nov. 10, 2017. Weinstein didn't accompany them, investigators said. Instead, he texted his girlfriend to coach her, prosecutors claimed. The alleged plan: spike the victim's drink with high-proof alcohol so she would be unable to drive, bring her back to Drucker's residence, and badger her with sexual questions.
"Keep sober so you can make it happen and aren't too drunk to win," Weinstein allegedly wrote in one text.
Once at the home, the woman passed out in a bathroom, which was rigged with a webcam, authorities claimed. Weinstein allegedly instructed Drucker to take pictures of the victim with spy glasses.
"Get her naked and get [sic] door open," he wrote, according to investigators.
They later discussed finding more victims, authorities said.
Later contacted by police, the woman said she remembered going to dinner, describing her wine as not tasting "right," and being "sick" the next morning. She said that she didn't recall anything happening after she commented on the wine, according to investigators.
Authorities claimed to find pictures of the victim. These were allegedly taken while she was in Drucker's bathroom.
A second woman also popped up during the investigation. Prosecutors say an iPad contained photos depicting a 2012 incident in which Weinstein allegedly sexually assauled an unconscious victim. This woman told cops she was unaware of this happening, and that she neither consented to being touched or photographed.
Weinstein and Drucker could not be reached for comment as of press time. Bail was set for $300,000, said the Bucks County D.A's Office. They are scheduled for preliminary hearings Oct. 18.
[Mugshots via Bucks County District Attorney's Office]
Have a tip we should know? [email protected]