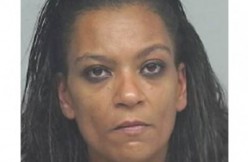 A woman in New Albany, Indiana was arrested Friday for allegedly stabbing her husband with a grill fork. What apparently sparked the attack? He forgot her favorite doughnuts.
Police got to the scene after a 10:37 pm 911 call. One officer found the husband, Timothy R. Nelson, sitting a short walk from his home, according to an arrest report obtained by The Smoking Gun. Nelson "was holding a t-shirt against his chest applying pressure to the puncture wound on his right chest."
He told police his wife, Michelle Nelson, stabbed him after he went out for doughnuts, and forgot her favorite ones. This set her off, and she complained because they'd already been together for a few years, and should've known what she liked. The man tried to leave after the argument got worse, but his wife allegedly blocked the door.
"He stated he pushed her to the side so he could get out of the door," the report said. "Michelle then lunged back at him and she had a grill fork in her hand." She allegedly followed him out the door, yelling at him.
Michelle Nelson was booked for aggravated battery, a Level 3 felony in Indiana. If convicted, she faces between 3 and 16 years in prison.
–
Follow Alberto Luperon on Twitter (@Alberto Luperon)
Have a tip we should know? [email protected]