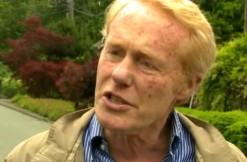 A high school teacher in Bothell, Washington is accused of making up a weird attack.
Woodshop instructor Calvin Pygott, 63, became an alleged victim on May 19. From a local police statement released Thursday:
During the initial investigation and subsequent statements, Mr. Pygott said he had been working in the woodshop when he was struck from behind in the head by an unknown assailant. He said this caused him to lose consciousness. He awoke on the ground in a pool of blood. He discovered a zip tie placed tightly around his neck, constricting his airway. Mr. Pygott said he tried to cut off the zip tie, but was unsuccessful. He staggered out a door where he was discovered by another teacher who was able to remove the zip tie and call for help. Mr. Pygott was taken to the hospital for medical treatment. He did not sustain serious injuries.
"…a zip tie placed tightly around his neck…"
This was a big deal, grabbing local media attention. Police locked down the school, took all the forensics they could find, interviewed locals, and reviewed all the surveillance footage they could.
Shortly after the attack, students showed their support to Pygott by going to school wearing blue.
Time passed. The investigation turned up nothing, police said. In fact, their evidence contradicted parts of Pygott's statement. On Wednesday, they met with him for another interview, and subjected him to a lie detector test. Police said he failed it, and they confronted him with the inconsistencies in his story.
"Mr. Pygott admitted he had made up the story," they said. "He said he had intentionally injured himself, placed the zip tie around his own neck, and staged the crime scene."
They even went out of their way to do a press conference on this.
Sergeant Seuberlich providing updates regarding BHS teacher assault for more info https://t.co/RqJJvgBse3 pic.twitter.com/udcQoPJynP

— Bothell Police (@BothellPolice) August 25, 2016
The investigation is ongoing, and charges are pending. Pygott technically still has a job, but:
Pygott now on paid admin leave says SD Super #Q13FOX pic.twitter.com/yhZ8ETZ1tu

— Steve Kiggins (@Q13FOXKiggins) August 25, 2016
Polygraph examinations, aka lie detector tests, are a pop culture fixture, but controversial in legal and scientific circles. In Washington State, you can't be convicted on polygraph results alone…So that purported confession might come in useful to law enforcement.
[screengrab of Pygott via Q13 Fox]
–
Follow Alberto Luperon on Twitter (@Alberto Luperon)
Have a tip we should know? [email protected]