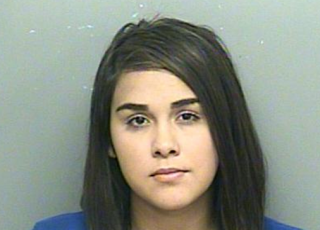 Alexandria Vera, a 24-year-old teacher at Stovall Middle School in Texas, was allegedly caught having a sexual relationship with a 13-year-old student after the affair resulted in her pregnancy. The school principal was tipped off to the relationship and later spoke with authorities. Vera denied the affair and her pregnancy to Child Protective Services, but then had an abortion and admitted everything to police, according to a criminal complaint charging her with continuous sexual abuse of a child.
Vera told law enforcement officials that she and the boy started their extracurricular connection over Instagram and then started having sex last September, meeting to have sex when his parents weren't home. She eventually met his parents, who came to know her as their son's girlfriend. When she became pregnant, they were excited about the baby. According to court documents, Vera claimed that she and the boy had sex almost every day for nine months, and that they loved each other.
A neighbor told KHOU that the student was at Vera's house a lot, and she would tell people he was her brother.
The school district said in a statement:
Aldine ISD has been made aware that charges have been filed against a former Stovall Middle School teacher involved in inappropriate behavior with a male student. When the allegation was made in April, the teacher was immediately removed from the school and placed on administrative leave.
Vera has a 4-year-old daughter, according to KHOU, and neighbors said that they disappeared for days before Vera turned herself in on Wednesday. She did not respond to reporters questions about the allegations.
Have a tip we should know? [email protected]