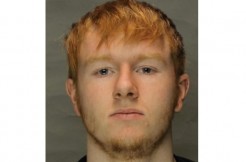 So this Pennsylvania family came home to discover an alleged burglar had been living in their home for at least two days. Almost everything weird that could've happened allegedly happened.
The accused crook is Zachary Jock, 21. He apparently disliked the furniture arrangement, so he shifted things around. Two knives somehow got stuck in the ceiling, though someone presumably stabbed them there. Property damage from that: $1,075. He allegedly wore their clothes, and sure, ate their food. Because if you're going to break into someone's home, plant knives in the ceiling, rearrange their furniture, and wear their clothes, you might as well eat their food, too.
Police in Lancaster County discovered pills, alcohol, and cigarettes on the premises. These reportedly did not belong to the family. Jock allegedly stuffed $2,800 worth of loot into a backpack, which, yes, of course, he is also accused of stealing from them.
The family detained Jock until police arrived, and he was arrested without incident. He's been charged with burglary, theft, criminal mischief, and two counts of prohibited acts. He's now in jail on $25,000 bail. If the burglary charge is a first-degree felony, his alleged two-day stay might result in a 20-year prison sentence, and $25,000 fine.
[h/t Lebanon Daily News]
–
Follow Alberto Luperon on Twitter (@Alberto Luperon)
Have a tip we should know? [email protected]