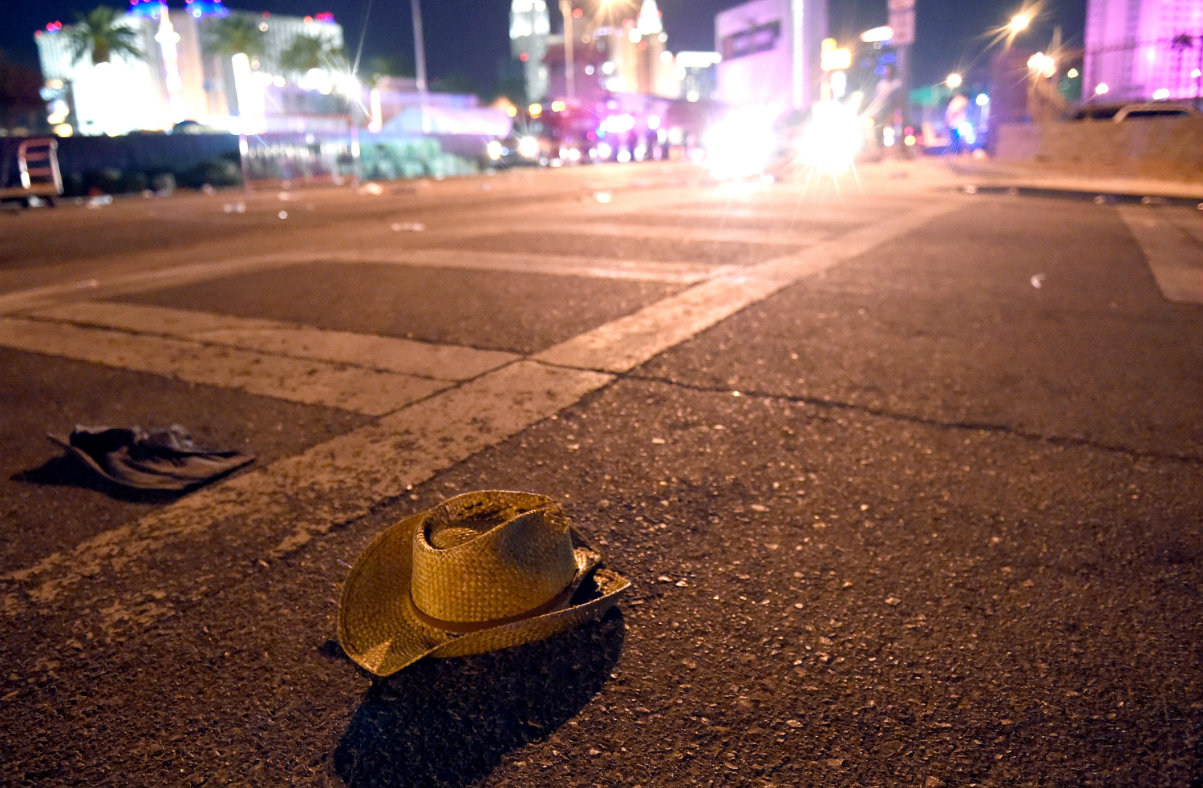 The Las Vegas mass shooting last year was the most devastating in American history, but judging by police statements published Wednesday, the scene on the ground managed to be equal parts sad and indelibly strange. Consider the story shared by Officer A. Loos, one of many law enforcement officials who swarmed the area. The cop experienced a bizarre run-in with a bystander as a gunman opened fire on a country music festival on October 1, 2o17.
He said that a "combat vet" started by extending his middle finger in the shooter's direction and then attempted to take charge of the situation.
"At this time, a highly intoxicated [man] standing at approximately 6′ 0″ with a medium build wearing a baby blue polo shirt, having a buzzed haircut and a thin moustache approached me from behind," Loos wrote in a statement obtained by The Los Angeles Times. "He shouted that he was a combat vet and that I should give him my rifle as he emerged from behind the cover of the patrol car and flipped off the shooter. I grabbed him and pulled him back to safety, he promptly stood up again and continued to flip off the shooter. I pulled him back a second time and he demanded my patrol rifle again. He then grabbed onto my rifle with both hands in an attempt to wrest it away from me. I punched him one time in the jaw with my left hand causing him to let go and lay down flat on his back in a supine position."
Let us be utterly clear about what is being described here. According to an officer, a drunk mustached man repeatedly tried to take the cop's rifle, and also flipped off a gunman. All during a mass shooting that ended up taking the lives of 58 people, and injuring hundreds and hundreds of others. The shooter, Stephen Paddock, carried it out from his room at the Mandalay Bay hotel, and took his own life, police said.
The Times covered Loos' statement and others after the documents were released by the Las Vegas Metropolitan Police Department due to a public records request and court order. It amounted to about 2,000 in Wednesday's release. This included witness statements and interviews with staff at the Mandalay Bay hotel. In other statements, officers articulated bewilderment, fear, and resolve.
"I was terrified," wrote Officer A. Mitre. "I questioned God, 'Why?' Why am I going to die today? I don't want to die. This is what I was trained for? I have to see this? Why? I don't want to do this anymore. I thought, 'I want to run, look there's a field, you can run, find a street, call a cab, leave, go home!" Then I said to myself, 'how hard have you worked, the academy, the badge, the love you have for people, you have to help, you might die, that's okay, you can't go, you have to stop the threat, you have to save them."
[Image from around the time and area of the shooting, via David Becker/Getty Images]
Have a tip we should know? [email protected]