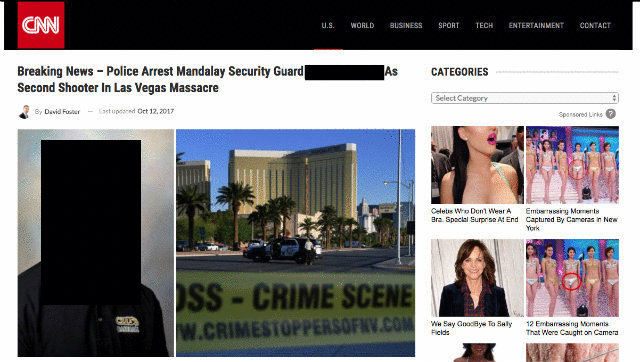 LawNewz.com has learned that CNN's Legal Department is now looking into a hoax website that is pushing a story about a security guard in Las Vegas being arrested following the massacre. The apparent hoax caught traction early Thursday after a "CNN" article claimed there was a second arrest in the Oct. 1 mass shooting at Mandalay Bay: the security guard originally credited with helping stop Stephen Paddock was booked as the second gunman.
Las Vegas Police have not confirmed this actually happened.
A spokesperson with CNN confirmed that the website where the story appeared was fake. It appears the "CNN International" website was created on Monday, and is registered with Go Daddy.
The site features the CNN iconic logo, and has a legit-looking layout. It even caught the attention of conservative radio host Mark Levin who shared the fake news:

This story might be gaining traction because authorities revised their initial timeline of the shooting, in which they say Paddock shot and killed 58 people and injuring over 500 a country music concert on Oct. 1. First, Clark County Sheriff Joe Lombardo "believed" that Paddock stopped the shooting from up on the Mandalay Bay because his cameras caught the security guard. In a revised timeline released Monday, Lombardo now says the guard was shot before the main shooting.
Law Newz will not reveal the guard's name because authorities have not said if he was charged with an actual crime, and we couldn't independently verify his name. When we reached out to the Las Vegas Metropolitan Police Department for comment, a spokeswoman said there was a press conference on the case scheduled for Friday, but there wasn't a PIO available who could answer our questions.
Rachel Stockman contributed to this report. 
Have a tip we should know? [email protected]