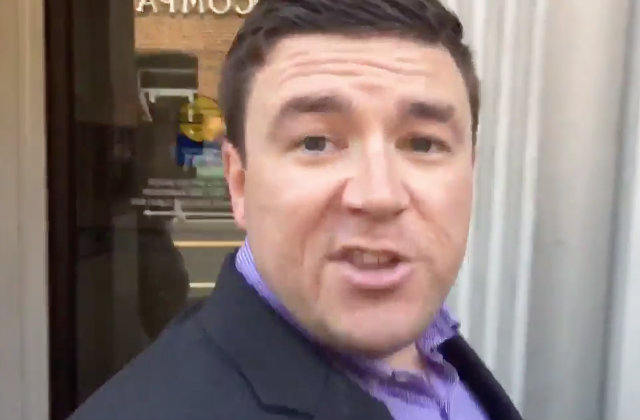 The man who organized an infamous white supremacist rally is now wanted in Charlottesville City for doxxing an anti-racist protester. Jason Kessler faces one count of use of a person's identity with the intent to coerce, intimidate, or harass, according to The Daily Beast. If convicted, he could spend up to a year behind bars. In three tweets from 12:42 p.m. to 12:50 p.m., Kessler said that he has been arrested, but claimed that someone else would be responsible for the alleged doxxing.
I've been to the cops and courts probably a dozen times complaining about people posting my address & they don't care. But someone alleges that an account I don't run listed their PUBLICLY AVAILABLE address & I'm charged with a Class 1 misdemeanor. WTF.

— Jason Kessler (@TheMadDimension) October 17, 2017
A law enforcement source told the Daily Beast that Kessler was not in custody as of 1 p.m. Tuesday. Law Newz could not independently verify an arrest as of press time.
The alleged victim, Emily Gorcenski, said a Twitter account called @RealByzantium tweeted her picture, address, and photograph on Oct. 3. An individual called 911, leading cops to her house.
"It was a call saying there was a disturbance of some sort with someone with a gun," Gorcenski told The Daily Beast. "I don't know who called it in but it came just days after my address was tweeted. I'm not accusing Jason of making that call."
As of Tuesday, the tweets seem no longer to be online, though that account still links to a blog in Kessler's name. The suspect also retweeted this from the @RealByzantium account: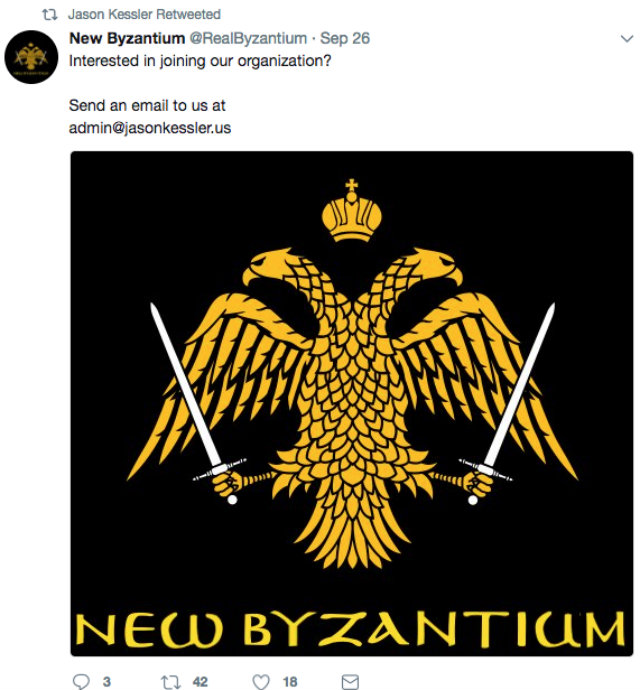 It's a recruitment ad, featuring an email linked to his blog.
In Tweets made Tuesday afternoon, Gorcenski said she is open to the possibility that someone else, not Kessler, doxxed her. But she argues he may still be liable.
But I believe the principles of vicarious liability may hold here, so Mr. Kessler not writing the tweets himself may be irrelevant.

— Emily G, Cville. (@EmilyGorcenski) October 17, 2017
Kessler's "Unite the Right" rally in Charlottesville, Virginia broke out in violence. Demonstrators, mostly white supremacists and self-styled identitarians, showed up to protest the removal of a statue of Civil War general Robert E. Lee. They were met by anti-racist counterprotesters, including Gorcenski. She said she was pepper-sprayed by Christopher Cantwell, a white supremacist made famous by a profile in Vice, and a video in which he broke down crying. Cantwell was arrested in August for the alleged attack.
In a separate case, Kessler recently pleaded guilty to a misdemeanor assault. But he was indicted for perjury in Oct. 4. Authorities said he lied to a judge in January about his victim starting the fight.
Have a tip we should know? [email protected]